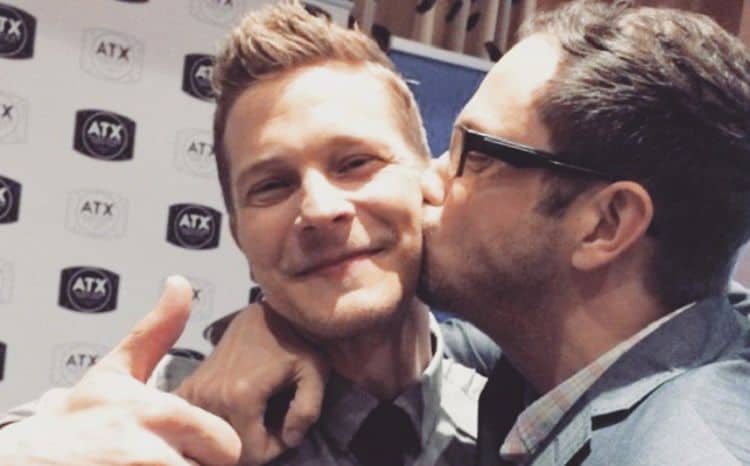 Besides having a Ukrainian last name that is exceptionally difficult to pronounce, (it's actually pronounced zoo-crie), according to IMDB, Matt Czuchry is an amazing actor who is a joy to watch on the small screen every single week. Perhaps you first saw him on the 2009 TV hit and Emmy Award winning series, The Goodwife, with Julianna Margulies and Chris Noth. In that show, he played a charming but manipulative attorney named Cary Agos and lit up the screen during his many riveting scenes. He's now starring in the leading role of Dr. Conrad Hawkins, who is a senior resident in The Resident, which is now in its second season on Fox. OK, so besides being extremely good-looking and super-talented, there's obviously a lot more to this popular actor. So, here are ten things you didn't know about Matt Czuchry:
1. Some Vital Stats
He was born in Manchester, New Hampshire, on May 20, 1977. His full name is Matthew Charles Czuchry and he's 5′ 9½" tall. He grew up in Johnson City, Tennessee and has two older brothers, named Mike and AJ, and one older sister named Karen. Matt went to Science Hill High School in Johnson City. His dad is a professor who teaches in Johnson City at East Tennessee State University. He was a History/Political Science Major and graduated from the College of Charleston in South Carolina in 1999 with top honors and B.A. degrees in both Political Science and History. Matt was also the captain of the tennis team in college. In addition, he won the 1998 title of Mr. College of Charleston and then went on to become an NCAA tennis player. He now lives in Southern California. Shortly after college graduation, he filled his car up with all of his worldly belongings and headed west to Los Angeles, California. His decision to pursue acting as a profession was one of the most significant risks of his young life but, boy, did it pay off!. .
2. He's a Really Bad Speller
When Matt was in kindergarten, it took him about three months to learn the spelling of his own name. He said that it wasn't saying much since he's really a terrible speller.
3. He Loves Playing Mortal Kombat
Well, who doesn't, right? His wrap party gift at the end of his second season on The Good Wife in 2009 was a deluxe Mortal Kombat package. He says that he played it for two weeks straight. Now, that's a true MK fan.
4. He's Still Single
He's also not in a relationship. He says that he's just enjoying dating right now. I'll bet a lot of women are happy to hear that!
5. He Hates Mice
He told IMDB that he once had a mouse inside his apartment and wasn't able to sleep for two nights. He says that he simply hates mice because they move so fast.
6. No Autographs Please
Once a female fan in college wanted him to autograph her breast. He says that he kindly refused because he simply thought that maybe he really shouldn't do that.
7. He Receives High Praise for His Acting Chops
David Hiltbrand of the The Philadelphia Inquirer wrote "Czuchry may be the best young actor on TV." He also received prestigious recognition from both Variety and The Hollywood Reporter in 2015 when he was named to their "Emmy® Contenders Lists". And, Matt Richenthal from TV Fanatic said, "Cary (Agos) is played brilliantly by Matt Czuchry with the right combination of confidence, swagger, and vulnerability." He has also made multiple press and TV appearances, like AOL Build, Live With Kelly, The Howard Stern Wrap-Up Show, and Harry, as well as a cover photo shoot for Entertainment Weekly, and much more.
8. He Got His Start Just a Month After Arriving in L.A.
Only a month after his life-altering drive to the West Coast, Matt was working with writers Judd Apatow, Paul Feig, and Mike White, as well as well-known actor James Franco, Matt had a small role in the critically acclaimed 1999 film Freaks and Geeks. His memorable work on that project earned him a prominently recurring role in a 2000 Dawson's Creek spinoff series with Kate Bosworth called Young Americans. That show was short-lived but Matt's memorable work garnered him tons of praise and attention, which then opened new doors and gave him an opportunity to work on some truly outstanding projects with some of the most creative minds in the entertainment biz, like David E. Kelley on The Practice from 1997 to 2004 and the wildly popular 2002 movie, Eight Legged Freaks with Scarlett Johansson.
9. Award Noms and Wins
Matt was nominated for three Teen Choice Awards while also garnering press in a number of popular magazines and building a loyal worldwide following. He received the Entertainment Weekly (Best Supporting Actor EWwy Award in 2011, as well as three consecutive Screen Actors Guild nominations and a SAG Ensemble Award between 2009 and 2011.
10. He was in Hack and Gilmore Girls
Early in his career, Matt played a swindling thief named Jamie Farrel on the 2002 to 2004 series called Hack. That role enabled him to hone his craft with the help of Drama Desk Award Winner, David Morse, and Emmy® Award Winner, Andre Braugher. Then came his breakout performance. Starting in 2005, he truly embodied the challenging role of Logan Huntzberger, a billionaire newspaper heir, on the critically acclaimed and very popular hit show called Gilmore Girls. Following that role, he regularly guest-starred from 2006 to 2011 on the popular Emmy Award Winning series Friday Night Lights.
So, now that you know a bit more about the amazing Matt Czuchry, you might want to tune in Tuesday nights on Fox at 8 pm EST, 5 pm PST. There's sure to be a great deal of excitement to come on this riveting medical drama and you don't want to miss a minute of it!