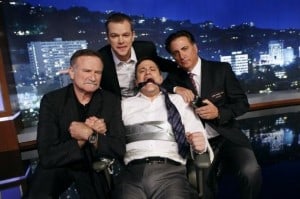 An age-old feud was finally (sort of) settled last night.  After bumping Matt Damon from his show for 10 years, Jimmy Kimmel felt the Oscar winner's wrath.  It began with a video of Matt Damon kidnapping Kimmel before he was set to finally appear on the show and it continued throughout the amusing episode.  Kimmel was wheeled onto the stage and remain duck-taped to a chair for the night while Damon hosted the show (renamed "Jimmy Kimmel sucks").  Damon began with a Saturday Night Live-inspired monologue that included such zingers as asking the audience "is it weird to see a person with actual talent host this show?" and declaring "I am Luke Skywalker and Kimmel is the Death Star: Big and round and easily destroyed through his garbage hole."
A plethora of stars stopped by, including Ben Affleck who just couldn't betray his love for Kimmel by supporting Damon in his hosting efforts.  In addition, Sheryl Crown performed and Kimmel got to interview Nicole Kidman then, with some help from Andy Garcia on the street, he also recruited Gary Oldman and Reese Withersoon.   Even Demi Moore decided to pop in after getting hit by a rock thrown by Garcia, as did Sarah Silverman, who stopped by to talk about her former relationship with Kimmel.
You can watch some video highlights from the episode below, including Damon's monologue.  If you want to see all the interviews from last night, check out Kimmel's YouTube page.
http://youtu.be/UoBMcN-xocA