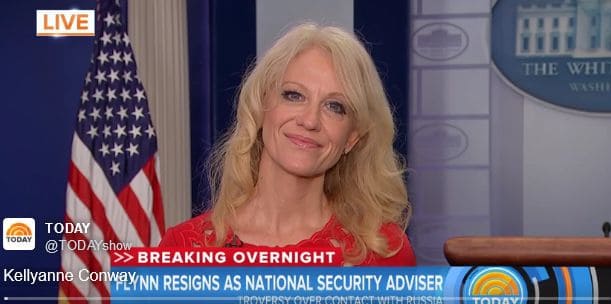 As many of you are well aware, National Security Advisor Michael Flynn has resigned from his post.  After Flynn acknowledged misleading Vice President Pence and other administration officials about his potentially illegal conversations with a Russian envoy he dropped his position in the White House.  In his resignation letter, Flynn blamed the "fast pace of events" surrounding the White House transition for the lapse, saying he "inadvertently" gave the officials "incomplete information."
Flynn's tenure was only 24 days which is the shortest time anyone has ever served as National Security Advisor.  Clearly the investigation into this matter isn't over and the media wants answers.  On the Today Show, Matt Lauer was able to get Kellyanne Conway onto the show to ask her some questions.   Conway, who's been under major scrutiny for making up stories like the "Bowling Green Massacre" as well as coining the term "alternate facts" seemed to be deflecting Lauer's questions into the Flynn resignation.   Lauer asked.
WATCH: @MLauer's full interview with @kellyannepolls on departure of #MichaelFlynn https://t.co/PZ1PGtACUY

– TODAY (@TODAYshow) February 14, 2017
"Yesterday on MSNBC you said that Michael Flynn enjoyed the full confidence of the president, Sean Spicer later said the president was evaluating the situation, and then Michael Flynn resigns overnight," Lauer began before directing his attention back to Conway. "Were you out of the loop on this?" Despite its abruptness (and Lauer's past prowess as a town hall moderator), the Today host's question was fair. After all, Conway was ready for it:
"No, not at all. Both were true. The president is very loyal, he's a very loyal person, and by night's end Michael Flynn had decided it was best to resign. He knew he'd become a lightening rod and he made that decision."
However this answer is extremely vague as it suggests the resignation was of Flynn's own volition.  This is where Matt Lauer skewered Conway.   Of course Conway persisted as she always does.