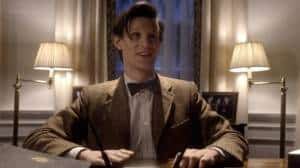 Award season might be over in the US but across the pond in the UK amidst Royal wedding fever the BAFTA nominations were released this morning. It is a pleasant surprise to see that Matt Smith has become the first actor who has portrayed the Doctor to be nominated in the Leading Actor category, despite Doctor Who not making the Best Drama Series cut. He faces strong competition in this category from Benedict Cumberbatch (Sherlock Holmes), Jim Broadbent (Any Human Heart) and Daniel Rigby (Eric and Ernie), but it is impressive to see his name amongst these other talented actors, showing that sci-fi isn't always ignored at big time award shows.
The show with the highest amount of nominations is the E4 series Misfits which has yet to be shown in the US, but I would encourage any one who get their hands on the series on DVD to do so as it really is terrific. The show is about a group of young offenders who, whilst doing community service get super powers due to a mysterious storm. It could be considered as a cross between Heroes and Skins and for further insight in to Misfits check out Shilo talking about the show here. It has received nominations for Supporting Actor (Robert Sheehan), Supporting Actress (Lauren Socha), Drama Series and New Media.
Any Human Heart which aired on PBS in February and Sherlock which also aired on PBS both got three nominations; Any Human Heart for Leading Actor, Supporting Actress (Gillian Anderson) and Best Serial Drama, Sherlock for Leading Actor, Supporting Actor (Martin Freeman) and Best Drama Series.
In the International category last years winner Mad Men features once again aiming for a hat-trick of wins and faces up against other US shows Boardwalk Empire and Glee. Danish hit The Killing is the fourth nominee and it is also the source of AMC's The Killing that is currently airing on Sunday nights. HBO one off drama The Special Relationship also makes the cut in the Best Single Drama category.
The awards will be held on May 22 and the full list of nominations can be found here.