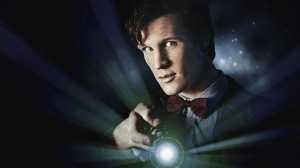 Just when you thought Russell T. Davies was finished with The Doctor…
The BBC has released a press release for the upcoming series of The Sarah Jane Adventures, the Doctor Who spinoff staring Elisabeth Sladen as former companion Sarah Jane Smith, which is to include an episode featuring Matt Smith as the Eleventh Doctor reuniting with Sarah Jane to combat an alien foe. The episode will be penned by Russell T. Davies, his first project in the Doctor Who universe since stepping down as Head Writer and Executive Producer of the flagshow's revival. The press release also announced the return of actress Katy Manning to her role of Jo Grant, another former companion of the Doctor, who will appear in the episode, as well.
This isn't the first time that the Doctor made an appearance on Sarah Jane Adventures. David Tennant's Tenth Doctor made an appearance in the Series Three episode, titled "The Wedding of Sarah Jane Smith", before passing the role over to Matt Smith. The character of Jo Grant hasn't appeared in the Doctor Who universe since her departure in the Third Doctor (Jon Pertwee) serial, "The Green Death."
Wonder if they will discuss the time lapse between the two shows' timelines, with SJA currently taking place fourteen years prior to the current series of Doctor Who's setting. Given that these shows do indeed feature time travel, it basically wouldn't matter. Although, it could provide a great clue to why the TARDIS is acting weird with its lapse in time currently, since the Eleventh Doctor thought he left Amy Pond for a few minutes to be surprised that fourteen years had past. Just a thought…
The episode is slated to air this Fall on CBBC in the UK.
Source: BBC Press Office