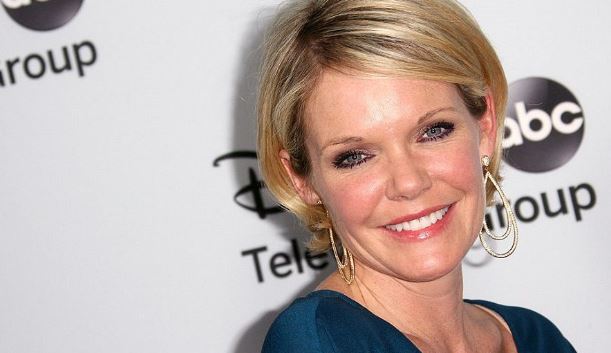 General Hospital fans have watched for many years as Maura West has been playing the role of Ava Jerome, and we cannot help but love her. She's so good at what she does, and she's so good at being this character. Ava is dark, edgy, dangerous, and she's manipulative. She's everything that Maura West is not, and that makes us want to get to know more about the actress who takes on this role with so much vigor and such a great attitude. Let's get to know more about her.
1. She's From Another Soap
It turns out that the fabulous Ava Jerome is not her first role, or her first job, or what she's best known for at this point in her life. In fact, Maura West made the role of Carly Tenney on "As the World Turns" famous. She was Carly for 15 years from 1995 until 2010.
2. She's the Youngest Sibling
She was born and raised in Boston, but she was not an only child. She was born on April 27, 1971. She was born in Springfield, and she has three older siblings. That probably meant she was the princess of the house, and it also probably gave her a love of big families.
3. She's Got a College Degree
Before she was a famous actress, she was a college graduate. She left high school to attend Boston University, where she graduated with a degree in fine arts. We don't think she's used that degree at all, but she's got it, and that counts.
4. She's A Married Woman
She's been married twice, but she's still married to her second husband. She was married first to Jonathan Knight, to whom she wed in 1995 and divorced in 1999. She then married Scott DeFreitas in 2000. That's not a lot of time between marriages, if you ask us.
5. She's A Mom to Five
She's got one child with her first husband, and she's had four with her second husband. She's only in her 40s, and that means she might be done having kids. However, we never know since she's still young enough to have more if she really wants. Big families are awesome, so she might want more.
6. One of Her Children Followed Her Footsteps
Her son, Joe West, is an actor. He doesn't have a famous soap role (yet) but he's working regularly on Broadway. He is an actor with a mission, and it's nice for a mother to see her son working so hard to do something he loves. We don't know if any of her other kids are interested in following her footsteps, too.
7. She's Won 3 Emmys
She's been nominated many times, and she's taken home three. Her first win was in 2007 for her role on ATWT, as was her second in 2010. Her third, which she won in 2015, was for this show and her role as Ava. She's been nominated 11 times since 2001.
8. She Met Her Current Husband at Work
Her husband, Scott, is the man she once worked with on ATWT. She married him in 2000 after a divorce in 1999. It makes us wonder if they were together before she ended her marriage, if her marriage was over long before they met, or what. We don't exactly know, and we refuse to speculate. She's happy and married to a man she's had four kids with, and that makes us happy.
9. She's a Great Villain
Ava Jerome was created and given to West to play, and she's stellar. The character is a mob heiress, and she's got a bad attitude and a good poker face. She's been through so much, and we love to hate her. But we also think that she takes this role to a level we love more than most others.
10. She's Well-Liked by Her Costars
Rumor on the street is that her friends and family really like her a lot, and so do her coworkers. She might play a horrible woman on the show, but we hear she's nothing like her in real life. That's comforting to know, too, since no one should aspire to be like the woman she plays on television at all. And that's a very good thing.