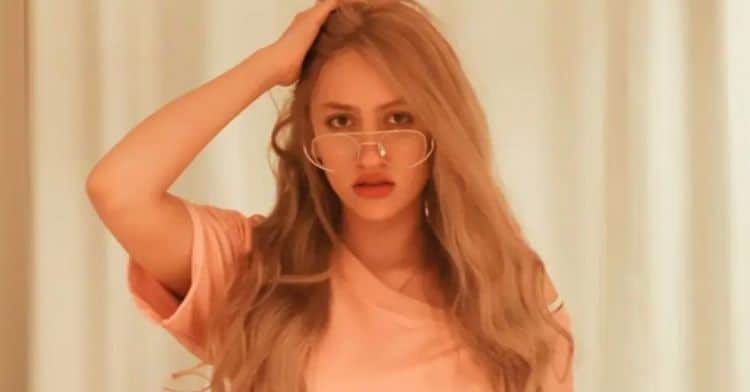 Being a social media influencer is all fun and games – until it lands you in jail that is. Unfortunately, that situation became a reality for Egyptian TikToker, Mawada Eladhm who was arrested after "Violating Family Values". Essentially, this means that the content of her TikToks was deemed unacceptable by the Egyptian government. However, many of her followers were shocked by the news because her posts aren't unusual. Most of her TikToks consist of lip syncing videos and short clips of her enjoying life. However, Egyptian culture is very conservative and some of her posts go against what is traditionally considered appropriate for women. After her arrest, she was sentenced to a two year prison sentence and a fine of 300,000 Egyptian pounds which is about $18,000 American dollars. Continue reading for 10 things you didn't know about Mawada Eladhm.
1. She Loves Spending Time With Her Nephew
Mawada is definitely the cool aunt, and she's very proud of it. She has a very close relationship with her nephew and he's mad some appearances on her social media. She has an entire highlight section on her Instagram account dedicated to her nephew and the adventures they go on together.
2. TikTok Isn't The Only Platform Where She Has A Big Following
Most people are familiar with Mawada from TikTok. However, that isn't the only social media platform where she's been able to build a devoted following. She's also popular on Instagram and has over a million followers. Her YouTube channel currently has more than 1 million total views.
3. She Loves Going To The Beach
Being a social media influencer means that Mawada spends a lot of time in front of a cellphone. That doesn't mean she never spends any time away from the screen, though. When the weather is nice, Mawada loves to head outdoors and spend time at the beach.
4. She Enjoys Traveling
There are lots of amazing things to see in the world, and Mawada wants to experience as many of them as she can. She loves to travel and she has been able to visit lots of cool places. Some of the country's she's visited include Jordan and Dubai. However, no place is as special to her as her home country of Egypt.
5. She's Close With Her Family
Like many other influencers from Gen Z, Mawada doesn't like to reveal too much information about her personal life. However, it's clear that family is important to Mawada and she loves spending as much time with her loved ones as she can. There hasn't been any word on how her family feels about her TikToks or her jail sentence.
6. She Loves Fashion
Mawada has a great sense of style and she isn't afraid to show it off. She knows exactly how to put the perfect outfit together. Her Instagram profile is full of trendy shots of Mawada posing in her favorite looks.  At some point, she could definitely have a successful career in modeling.
7. She Likes Giving Back To Others
Most people are under the impression that social media is just about popularity, and while that may be partially true, it can also be about so much more. Mawada has used her platform to bring attention to issues that are important to her. In December 2019, she posted about a local hospital that was in need of help.
8. She Loves Animals
Animal lovers will be happy to know that Mawada Eladhm is one of them. While most people stick to one side or the other, Mawada seems to be somewhere in the middle. It's unclear whether she has any pets of her own, but she has posted a good amount of pictures of herself posing with dogs and cats and she loves all fur babies equally.
9. She's Adventurous
Mawada is the kind of person who likes to get out and enjoy life. No matter what she's doing, you can bet she's having fun. Whether she's in Egypt or traveling in a different country, she loves to get out and explore all of the things around her. From skiing and swimming to visiting trampoline parks, Mawada isn't afraid of a good adrenaline rush.
10. She's A Brand Ambassador
When you have as many followers on social media as Mawada, it opens up doors to a whole world of possibilities. Businesses love working with influencers because it gives them a new way to reach out to their target customers. Mawada had been able to work with several brands throughout the years. Most recently, she has shared a post for a local cellphone company.