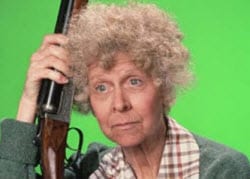 It's always sad when a great actor passes, no matter if they've died young or old. Maxine Stuart was fortunate enough to be in the former category, having just passed away of natural causes at 94.
You may not recognize her name outright, but chances are you've seen her before. She was nominated for an Emmy for a guest starring role on the Wonder Years, and also recieved honors for her work on the soap opera The Young and the Restless.
Perhaps her most iconic role was in the Twilight Zone episode, Eye of the Beholder. In it she plays a woman who constantly undergoes surgery to look "normal," and ends up as actress Donna Douglas at the end of the episode when her bandages are removed. She is beautiful, but the rest of the world are all pigs. It's quite the bit of social commentary, and one of the show's most enduring, impactful episodes.
All in all, browsing through Maxine Stuart's IMDB page is pretty incredibly. She has 118 film credits to her name over the past 70 years or so, with her last role being in 2003 on Judging Amy.
But her favorite role out of all of them? That would the movie Winning, where she shared a kiss with Paul Newman. I imagine that would be anyone's favorite role.
Our sympathy goes out to her friends and family, but it's fantastic for an actress to have such a long life and a truly prolific career. Other actresses should aspire to follow her lead.