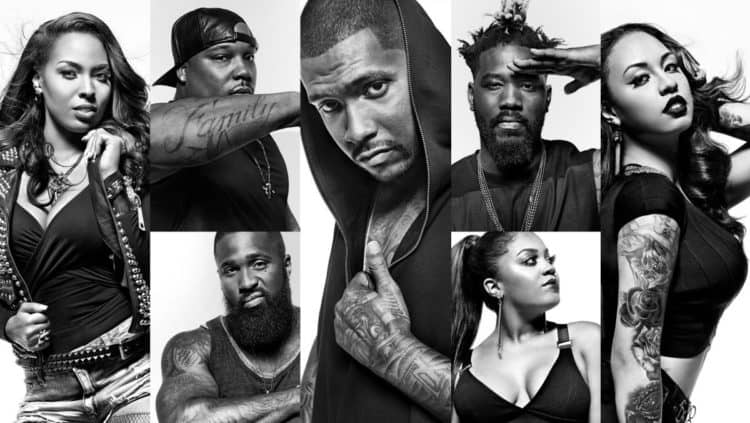 The reality television series "Black Ink Crew Chicago" just completed its fourth season in September of 2018. The most recent round started on May 30th. For those of you who haven't been keeping up with who's coming and going on the show, the main cast of 7 have been regulars with some recurring and guest visitors throughout the year. Here is the cast of the Black Ink Crew Chicago crew who gave us a sample of the ups and downs of running a tattoo shop in Chicago, Illinois.
The Cast of Season 4
The main cast of regulars on the show is Ryan Henry, Charmaine Walker, Phor Brumfield, Don Brumfield, Danielle Jamison, Van Johnson, and Liliana Barrios. They were joined by recurring crew members Ashley P., Cobra Kat, JR Diaz, Nikki, Rachel, Jenn, Terrence, Reese, Bella, Neekbey and Slam.
Ryan Henry was under the microscope and it wasn't much for him when the secret about his encounters with Kat was revealed to his girlfriend Rachel. This was one of the more dramatic moments for Ryan and it caused a lack of respect from his employees as well as the price of a good worker when he let Katrina go over the debacle. It made for a rather dramatic scene that would carry over into the rest of the episodes. Henry feels betrayed over the attitudes of the employees that he once considered being family and the dynamics are now different between them. The rest were surprised when Ryan cleared his booth out and trashed some of the others.
What the cast has been up to
Van is Ryan's long-time friend who was elected to confront him over his erratic behavior and he told Van that he wasn't going to renew the lease on the shop because of the betrayal. It was a huge drama that affected everyone on the show.
Don has his own issues after a sex tape of him and another woman have caused issues between him and his wife Ashley. Things get worse for him when he gets busted for a DUI and has to deal with this in addition to the troubles he's created with his woman. He seems to go from one bad decision to another, but he's still got plans to win Ashley back. When a family crisis breaks out, it's the break Don has needed to get her back in his life.
Danielle is back with the Chicago crew, thanks to Charmaine, but she isn't happy about Nikki's new hire.
Lily is dealing with issues that have arisen from her past and neither she nor Reese is sitting back to take Charmaine's new set of rules as HBIC. They stage a rebellion
Ryan has a new venture while he and Rachel are still together and making it work. Junior's girlfriend is causing a stir and Don faces troubles after he's arrested and charged with a DUI. Terrence and Danielle turn up the heat on their relationship, while Cora finds out about something interesting from Reese's past.
Neek came back from his trip to Africa and Charmaine is holding him close. It's a nice surprise when a celebrity guest shows up and offers some advice and these are the highlights of what's been going down with the crew at Black Ink Crew Chicago, but it doesn't even scratch the surface. If you want to find out the juicy details of the recently ended season four, you'll have to tune in and catch up for yourself.
Final thoughts
The Black Ink Crew Chicago has had an interesting and eventful fourth season. It seems like there's so much going on with each member of the cast that you don't dare miss an episode. If you do, it's a good idea to try and catch up on what you've missed. These folks don't know the meaning of taking it easy on the job or in their personal lives. It leaves us wondering what is to come for the fifth season. Can the crew manage to hold it all together for one more season? We've seen evidence to suggest that it's a volatile situation and it doesn't take much of a spark to fan a wildfire of drama and excitement. Keep your ear to the ground for more news on your favorite crew members for the upcoming year.