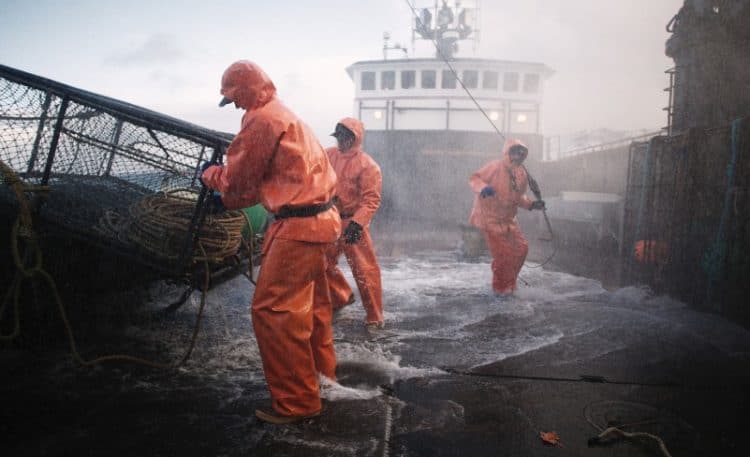 The Discovery Channel has certainly produced some popular documentary shows through the years, and Deadliest Catch is certainly one of them. The On Deck version is a continuation of what started back in 2005. The show depicts real life situations that occur on board fishing boats that are working the Bering Sea during the Alaskan season. King crab, queen carb, opal crab, and bairdi crab are the primary targets. Viewers the world over have tuned in season after season to see what the crew is up to and what dangers they encounter during each new episode. Some of the crew remains that same, while there are some new ones that appear from time to time as well. One thing is for sure, each of the members of the show put themselves in dangerous situations given the nature of their work. Being on a fishing boat is one of the toughest jobs imaginable, and viewers of Deadliest Catch: On Deck get to see that up close and personal. As you continue watching the show, here is a summary of the cast members that you will encounter along the way.
Sig Hansen – Captain
Sig actually comes from a family of Norwegian fishermen. As such, he actually beginning fishing on the boat and the young age of 15. He was still in high school when he would join his father on the family boat to go crab fishing. After completing high school, he would go into the business full time, becoming a relief captain at the age of 22.
Norman Hansen – Engineer and Deckhand
Norman is extremely hardworking, and he is known to be very loyal on the ship. Long time viewers will know him when he was single, but he now married. For a time, he tried his hands at engineering, even working as a mechanic in an automobile shop until he was 35, but then he went back to the shipping vessel full time when he was 35. He is also able to use his engineering skills on board the Northwestern, so you will set that from time to time as well.
Nick Mavar – Deckhand
Nick is from Croatia and comes from an entire family of fishermen. He actually began his career as a teenager when he, his brother, and his father fished for salmon in Alaska. He first tried to fish for crab at the age of 18, but due to poor harvests, he simply returned to work with his family. It would be 12 years before he tried another go, and he has stuck with it ever since. He is a valuable member of the cast as well.
Karl Rasmussen – Greenhorn
He is from Norway and is one of the Northwestern's founders grandsons. This is how he ended up on the ship, and it looks like he will be there for quite some time. He has become a critical part of the crew and one of the most liked. We frequently see him laughing and having a good time. In addition, he is humble and works hard to do the very best job he can do.
Matt Bradley – Deckhand
Matt is one of those characters that is difficult to get to know. Regular watchers of the show will know that he states he will never again return to fish on the Northwestern, yet he does keep coming back. He also has an e-cigarette vaping business on the side, so it seems that he comes back to fishing when he needs an infusion of cash. His heart just does not seem to be in fishing for crab anymore.
Mandy Hansen-Pederson – Captain-In-Training
Mandy is obviously Sig's daughter and has stayed in the family business. She works hard and is just as stubborn on the show as her father. She is also going to school to learn more about being a captain out at sea. She wants to be her own captain one day is will to put in the hours required to be under consideration at some point in the future.
Clark Pederson – Greenhorn
Clark actually graduated from Washington State University and went on to the California Maritime Academy. He has received his third mate unlimited license and has been trying to get as much experience at sea as possible. He is a new greenhorn and has quickly earned the respect of the crew. He also is in the family now as he is married to Mandy. He is confident, and he is also not afraid to take orders from his wife when on the boat.
Keith Colburn – Captain
Keith does not come from a family of family fishermen, making his a first generation crabber. He began at the age of 22 and has really not looked back since then. He has worked hard to make it up to the rank as a captain and is a much different type of leader than Sig is.
The Northwestern – Ship
The show would not be what it is today without the ship, so it is also a critical part of the cast. It is one of the safest boats in the fleet that is on Deadliest Catch. Even given that fact, it has gone through quite a lot as it goes through the Bering Strait season after season. The crew knows how to keep the ship in top condition to compete with all of the others on the open sea.
So, there you have it. There are actually more cast members on the show than you have read about here, but these are the ones you are most likely to see on a regular basis. The more you watch, the more you will get to know each one and identify with their plight. You will also be cheering them on to haul in the biggest catch yet.