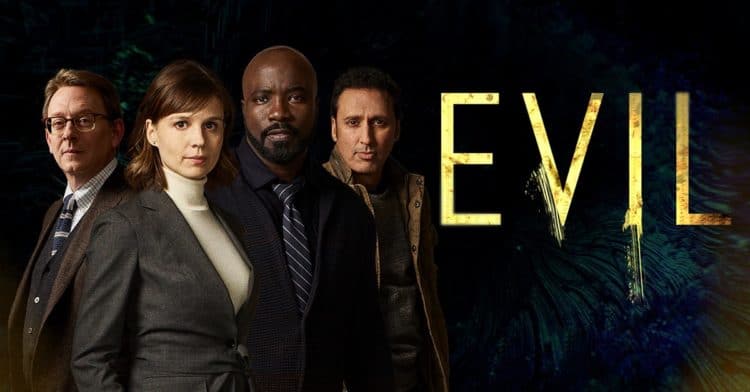 If you're a fan of the supernatural, you won't want to miss CBS's gripping new thriller, Evil. The show revolves around Kristen Bouchard (Katja Herbers), a psychologist who finds her natural skepticism tested to the limit when she's hired by former journalist turned priest-in-training, David Acosta (Mike Colter), to uncover which reports of supernatural occurrences can be explained away by science, and which may need another (and far more chilling) explanation altogether. Created by husband and wife duo Robert and Michelle King, the series is sure to leave us questioning our own beliefs, while keeping us thoroughly entertained in the process. To find out who'll be joining Herbers and Colter in this nail-biting new addition to CBS's fall lineup, check out our who's who guide to the cast.
Katja Herbers as Dr. Kristen Bouchard
Dutch born actress Katja Herbers takes on the pivotal role of Dr. Kristen Bouchard, a smart, sassy forensic scientist hired by former journalist turned priest in training David Acosta (Mike Colter) to help identify cases of demonic possession. Skeptical by nature, Bouchard soon finds her beliefs tested as she works to uncover the truth. In an interview with Global News, Herbes explained the similarities she feels with her character. "(Like her) I'm definitely more science-based, but I do think there are things that science hasn't gotten around to explaining yet or might not be explainable. Like my character, I'm not religious, but I do have respect for people who believe, as long as they don't start wars for what they believe or impinge on other people's freedoms."
Mike Colter as David Acosta
Mike Colter takes on the role of David Acosta, a priest in training who hires Bouchard to help him investigate, and explain, reports of demonic activity and miraculous happenings. After studying theatre at the University of South Carolina, Colter made his breakthrough in Hollywood with the role of boxer Big Willie Little in the highly acclaimed Million Dollar Baby. Since then, he's combined small-screen success with the likes of Law & Order: Trial By Jury, Law and Order: Criminal Intent, The Good Wife, ER, and The Parkers, with film projects such as Salt (2010), Men in Black 3 (2012), Zero Dark Thirty (2012), Extinction (2018), and Breakthrough (2019).
Michael Emerson as Dr. Leland Townsend
Taking on the role of Occult expert Dr. Leland Townsend is Michael Emerson, an actor best known for his performances as William Hinks on The Practice, Benjamin Linus on Lost, Zep Hindle in Saw, and Harold Finch on Person of Interest. Since landing his big break as Oscar Wilde in the critically acclaimed off-Broadway play, Gross Indecency: The Three Trials of Oscar Wilde, Emerson has enjoyed numerous accolades, including an Emmy Award nomination in the "Outstanding Supporting Actor" category in 2007 and 2008 for his performance in Lost, two Primetime Emmy Awards, and numerous others.
Aasif Mandvi as Ben Shakir
The part of Ben Skakir, David's go-to technical expert, is played by Aasif Mandvi. Since getting his start in entertainment as a correspondent on The Daily Show with Jon Stewart, the British born actor and comedian has become best known as the lead actor, co-writer and producer of the web series Halal in the Family, and as the actor, writer and co-producer of the comedy series, The Brink. The multi-talented 53-year-old is also the author of the hugely successful No Man's Land and the recipient of an Honorary Doctor of Humane Letters Degree by the Macaulay Honors College.
Brooklyn Shuck as Lynn Bouchard
Playing Lynn Bouchard, one of Kristin's 4 daughters, is the 14-year-old actress Brooklyn Shuck. The young actress is best known for her extensive stage work, which has included parts in the Broadway production of Annie, Matilda the Musical, Beaches, Les Misérables, Harry Potter and the Cursed Child, and The Ferryman. Previous TV credits include a recurring role on Rise and an appearance on Instinct.
Skylar Gray as Lila Bouchard
According to her CBS profile, Skylar Gray (who'll be playing Lila Bouchard, another of Kristin's four daughters) was destined for a career in acting: both of her parents are actors (her mother is Shanelle Gray of The Bold and the Beautiful fame, while her father is Game changes' David Barry Gray), while her aunt is one of Modern Family's most famous faces, Ariel Winter. Gray began her career in commercials and print ads and has since appeared on TV shows such as Life in Pieces, Married, Room 104, and Fresh Off the Boat, along with the feature film, Now Is Everything.
Maddy Crocco as Lexis Bouchard
Maddie Crocco stars as Lexis Bouchard, one of Kristen's brood of 4 kids. Since the age of 6, Crocco has been honing her skills in musical theatre, and now, at the ripe old age of 11, can boast a list a credits that include performances as Gretl in The Sound of Music, Young Cosette in Les Misérables, Flounder in The Little Mermaid, and Charlie Bucket in Charlie and the Chocolate Factory.
Dalya Knapp as Laura Bouchard
Kristen's youngest daughter Laura Bouchard is played by Dalya Knapp. According to CBS, Knapp has been dreaming of a career in entertainment ever since she started learning to dance at the age of 4. Since then, she's appeared in numerous commercials and has recently completed an 18-city tour of the US in the Broadway production of Les Misérables.
Christine Lahti as Sheryl Luria
Starring as Kristen's mother, Sheryl Luria, is Christine Lahti, a 69-year-old veteran of such films as …And Justice for All (1979), Housekeeping (1987), Running on Empty (1988), and Leaving Normal (1992). Her work on TV, meanwhile, has earned her numerous accolades, including eight Golden Globe nominations, six Emmy Award nominations, and both a Golden Globe and an Emmy for her role as Kate Austin in Chicago Hope (1995–1999).
Kurt Fuller as Dr. Boggs
Taking the part of Dr. Boggs, Kristen's therapist, is Kurt Fuller, a character actor best known for his performances in Psych, No Holds Barred, Wayne's World, Supernatural, Ghostbusters II and Scary Movie.