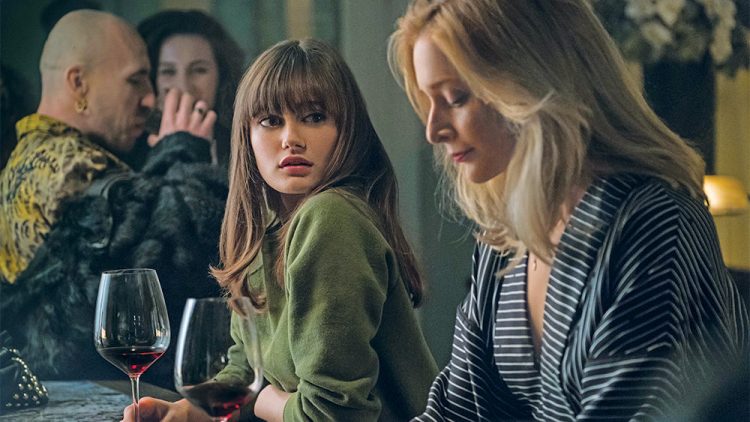 Based on Stephanie Danler's best-selling novel of the same name, Sweetbitter tells the story of Tess, an impressionable young woman who lands a job in a celebrated New York restaurant and is swiftly introduced to the seedy world of downtown New York. Following on from the success of its inaugural season, Sweetbitter season 2 premiered on July 14, 2019. In it, we see Tess continue her journey of self-discovery, find her voice and begin to question what exactly she wants from life, and from those around her. Season 2 brings back many familiar faces to our screens, along with a new addition in the form of celebrated Broadway actress, Sandra Bernhard. To find out more about the cast, keep reading.
Ella Purnell as Tess
Tackling the central role of Tess is British actress Ella Purnell. While studying her craft at the Sylvia Young Theatre School, Purnell became one of the few girls to be cast in the stage production of Oliver!. Her stellar performance in the production led to her casting as Young Ruth in Mark Romanek's feature film, Never Let Me Go. Since those early days, Purnell has enjoyed success in such notable films as Kick-Ass 2 (2013) Maleficent (2014), The Legend of Tarzan (2016), and Miss Peregrine's Home for Peculiar Children (2016). Her numerous honors include Best Actress awards at the Los Angeles Independent Film Festival, Twister Alley International Film Festival, Myrtle Beach International Film Festival, and Richmond International Film Festival.
Tom Sturridge as Jake
Appearing as Jake is English actor Tom Sturridge. Known best for his work in the films Vanity Fair (2004), Like Minds (2006), Journey's End (2017) and The Boat That Rocked (2006), and the TV shows Gulliver's Travels (1996), and The Hollow Crown (2016), Sturridge is also an acclaimed theatre actor, having appeared in stage productions of 1984 (2017), The Trial (2015), and American Buffalo (2015). Outside of acting, Sturridge is a father to daughter Marlowe Ottoline Layng Sturridge, who he shares with his ex-fiancée, actress Sienna Miller.
Caitlin FitzGerald as Simone
Portraying the character of Simone is Caitlin FitzGerald, an American actress best known for playing Libby Masters in the TV drama Masters of Sex. FitzGerald developed her interest in acting at a young age, performing in local theatre and honing her skills at the Tisch School of the Arts, and the Stella Adler Studio of Acting. Since debuting on TV in 2008 in Law & Order: Special Victims Unit, FitzGerald has featured in such notable roles as Serena in Unreal (2018), Diane in New Girl (2016), and Epperly Lawrence in Gossip Girl (2011). She's also enjoyed big-screen success with Taking Woodstock (2009), The Fitzgerald Family Christmas (2012), Mercy (2016) and The Man Who Killed Hitler and Then the Bigfoot (2018).
Eden Epstein as Ari
Taking on the role of Ari is Eden Epstein, an actress best known for playing the lead character of Joy in 2018's romantic drama, The Second Sun, and Ella in the 2017 drama, Blind, starring Demi Moore and Alec Baldwin as the protagonists Bill Oakland and Suzanne Dutchman.
Daniyar Stephanie Danler as Sasha
Playing the flamboyant but hardworking immigrant waiter Sasha is Russian actor and director, Daniyar Stephanie Danler. In addition to Sweetbitter, Danler can be seen in the recurring role of Yuri II on the TNT series, Claws, and has enjoyed previous success on Scandal and in the FKA Twigs' music video, "Video Girl".
Jimmie Saito as Scott
Taking on the role of Scott is actor Jimmie Saito. In addition to Sweetbitter, Saito's acting credits include the roles of Blaine Geary in Elementary (2018), Sergeant Martinetz in Blue Bloods (2017), Fudo in The Blacklist (2017), Peyton Shong in Bull (2016), Scott in Royal Pains (2016), Hwang in 2 Broke Girls (2016), and Tze in The Mysteries of Laura (2015).
Rafa Beato as Santos
Playing Santos is Rafa Beato, a Dominican actor who, prior to moving into acting, competed as a professional baseball player. In addition to his TV achievements, Beato has claimed similar success in theatre, beating off stiff competition in 2017 to earn the ACE Award for Best Actor in a Musical for his performance in Repertorio Español's production of "La Cancion". In his acceptance speech, Beato shared his ambitions for the future. "Sometimes it is difficult for me to look back and feel pride in what I have achieved, since I am always thirsty for more, but seeing myself where I am today has to fill me with satisfaction because at my age I am doing what I love and I try to put the name of my country on high. I still need a lot more and I look forward to it."
Sadie Scott as Roslyn
Featuring as Roslyn is actress Sadie Scott. While studying at the LaGuardia High School for the Arts in NYC, Scott began landing TV roles, most notable of which was the comedy-fantasy series, Smosh (2012), and the horror-thriller, Miserable Marnie & The Shut In (2013). Since graduating, Scott has lived up to her early promise with roles in Law & Order: Special Victims Unit (2015), and Crshd (2019).
Gabriel Gutierrez as Manny
Taking on the role of Manny is Mexican actor Gabriel Gutierrez. Gutierrez has been acting since the age of 13 but is perhaps best known for his roles in From Dusk Till Dawn: The Series; Without a Trace; Blue Bloods and Werewolf in Texas. A talented stage actor, Gutierrez's resume includes performances in such productions as Así Que Pasen Cinco Años and Miss Abigail's Guide to Dating and Ropes.
Paul Tawczynski as Line Cook
Playing the character of "Line Cook" is actor Paul Tawczynski. Outside of his acting career (which has taken in such features as Succession (2019), Elementary (2019), The Sinner (2018) and Blue Bloods (2018)), Tawczynski is a professional fisherman, survival expert, and, according to his IMDB profile, the resident chef at his family's organic farm in the Berkshire Mountains of Massachusetts.
Sandra Bernhard as Maddie Glover
Joining the cast of season 2 as a special guest star is renowned comedian, actress, singer and author, Sandra Bernhard. Since achieving fame in the 1970s with her standup comedy routine, Bernhard has enjoyed a stellar career on Broadway, TV, and film. She's also released 14 solo albums, 3 compilations, numerous singles, and 3 books: the autobiography, Confessions of a Pretty Lady, the essay collection, Love, Love and Love, and the semi-autobiographical, May I Kiss You On The Lips, Miss Sandra?