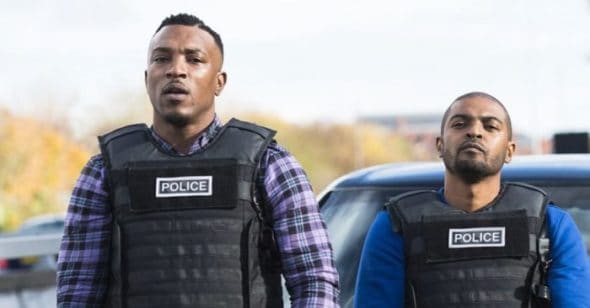 CW has released hit after hit over the last few years. This time the network is taking us across the Atlantic to London's East End. Bulletproof follows the action-packed lives of police partners Bishop and Pike as they chase down criminals throughout the season. Each episode will feature a new story, but those stories will all resolve in the end into one season-long case. The show features some interesting characters, and the actors portraying them are just as amazing. Originally a British release, the CW is giving us an opportunity to enjoy the show that got such rave reviews initially. We've listed some of Bulletproof's cast for you to get to know well before the season progresses.
1. Noel Clarke
English actor Noel Clarke is a familiar face in British television. For American fans, he's probably most notable for his role as Mickey Smith in the revival of Doctor Who, although he played several roles in that show as well. This award-winning performer is taking on the role of NCA Detective Aaron Bishop on Bulletproof,but he's also credited as co-creator for the show. In fact, Clarke has written, created, and directed a number of shows throughout his career. Some of those include Kidulthood and its sequels, Adulthood and Brotherhood.In 2003, Clarke also took on the live stage with the play, Where Do We Go,performed at the Jerwood Theatre Upstairs at the Royal Court. Apart from CW's Bulletproof and a couple of other films this year, Clarke also has a couple of projects coming up. His next movie is called SAS: Red Notice and is set to reprise his popular role as Sam Peel on another installment of the Kidulthood, films—Parenthood.
2. Ashley Walters
Ashley Walters is an undeniable talent. Apart from being an actor, he's also a rapper known by his stage name Asher D. They 37-year old celebrity is known for his role in films such as Goal! The Dream Begins (2005)and Speed Racer (2008).Interestingly enough, Walters also starred in an episode of Doctor Who from 2013. The episode was called "Journey to the Centre of the TARDIS." Walters got in trouble for posting a picture of himself on social media while posing with his costume in front of the TARDIS, but that photo was immediately taken down. Walters attended theatre school when he was young, and he has performed on stage a few times at the Royal National Theatre and the Royal Court Theatre. In Bulletproof,Walters is playing the role of Pike, Bishop's partner. Walters is enthusiastic to bring the show to American audiences, especially since there hasn't been any British shows with two black leads. Walters is also co-creator of the series along with Clarke, and it's a project he's extremely proud of.
3. Christina Chong
English actress Christina Chong is no stranger to the stage. The familiar television actress has been training in dance since she was only 4 years old, and by the time she turned 14, she was already acting for the Italia Conti Academy of Theatre Arts—a prestigious theatre school in London. She graduated five years later and got into the world of musicals straight away. An unfortunate injury ended her career in musical theatre too soon, but it didn't stop Chong from pursuing her dreams. She traveled to the US to study at the Lee Strasberg Theatre and Film Institute. With hard work and dedication, she managed to snag a few roles on television and film including Black Mirror (2013), 24: Live Another Day (2014), and Star Wars: The Force Awakens (2015). In Bulletproof, Chong plays NCA officer Nell McBride, for which she was highly praised (). It isn't the first time Chong is playing a role in a police procedural, but it certainly might be the first time she's really getting noticed in a bigger way. Chong is another talent to look out for, and she's one reason to watch Bulletproof.
4. Lashana Lynch
Lashana Lynch's popularity took off after she starred in the hit Marvel film, Captain Marvel in 2019, in which she starred as Carol Danvers' best friend Maria Rambeau. Before that, Lynch was known for playing Rosaline Capulet in Shonda Rhimes' Still Star Crossed. Lynch graduated with a BA degree in Acting at London's Arts Ed drama school. The London-born Jamaican descent actress' career is just taking off, and she's got a lot to look forward to in the next couple of years. Lynch is playing the role of Arjana Pike in Bulletproof. She is Ashley Walters' wife on the show. In addition to Bulletproof,Lynch's other big project is coming in 2020. She managed to snag a role in the upcoming Bond 25 film in which she'll be playing the role Nomi, and she's also joined the cast of the TV series Y,where she'll be playing the role of Agent 355
5. David Elliot
The cast of Bulletproof is definitely not short on talent, and among the cast members is Scottish actor David Elliot. Elliot may not be as familiar to American audiences, but he's an established actor with an impressive resume. He was the recipient of the BAFTA Scotland Award in 2015, a noteworthy accomplishment considering he had to beat the likes of Robert Carlyle in order to win. Elliot is most notable for his lead role in the war movie Kilo Two Bravo (2014), where he played Mark Wright. He's also been seen in TV shows such as Outlander (2014).Elliot plays the role of Tim "Jonesy" Jones in Bulletproof; and if you saw the premiere, you should know what happened to Jonesy off the bat. But there are no worries here considering Elliot is billed as a main cast member. We'll see what happens to him in the weeks to come, or we can just watch the British release—either way, Elliot is there. The show definitely wouldn't be the same without him and his talents.