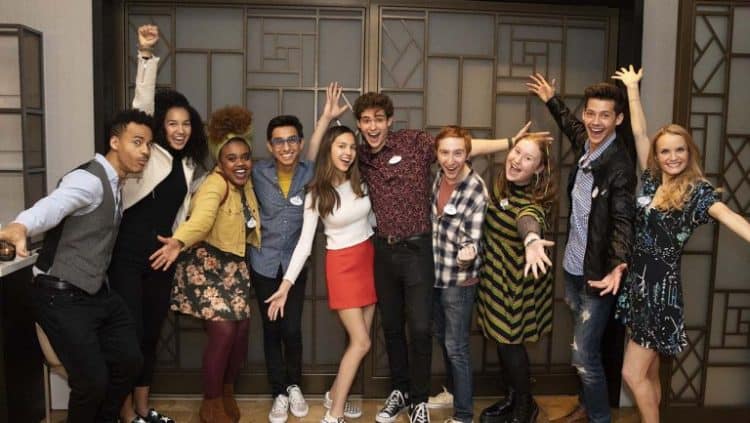 When a series is picked up for a 2nd season before its 1st has even debuted, you can be guaranteed of a good thing (or, at the very least, a sure-fire rating's winner). With the High School Musical Series, we're probably getting both. The series takes place at a fictionalized version of East High School, the Salt Lake City high school that provided the setting for the High School Musical movies. In the opening episode, we're introduced to Miss Jenn, a former background cast member who's recently taken up a new position as the school's drama teacher. After deciding to celebrate the school's association with the original film by staging High School Musical: The Musical as her first winter theater production, Miss Jenn ropes in an assortment of young students to star. As you'd expect, they soon find there's as much drama to be found offstage as there is on. Find out who you can expect to see with our guide to the cast.
Joshua Bassett as Ricky Bowen
18-year-old Joshua Bassett takes on the lead role of Ricky Bowen, a "sarcastic but charismatic high school junior, who launches a bold move to prove himself to his ex-girlfriend Nini — by auditioning to star opposite her in the school's production of High School Musical: The Musical." Basset, whose casting in the role was announced in October, is clearly delighted about the opportunity, telling ET "As someone whose childhood was shaped by the cultural phenomenon that is High School Musical, I am thrilled to have the opportunity to continue to tell this story." Basset is a relative newcomer to the world of TV but already has over 30 musical productions to his name.
Olivia Rodrigo as Nini Salazar-Roberts
Olivia Rodrigo stars as Nini Salazar-Roberts, the ex-girlfriend of Joshua Bassett's Ricky Bowen. Despite her young age, the 16-year-old actress has already appeared in a slew of hits, including Grace Stirs Up Success (2015) New Girl (2011), and most recently, Disney Channel's live-action comedy, Bizaardvark (2016).
Kate Reinders as Miss Jenn
Kate Reinders stars as Miss Jenn, East High School's new drama teacher with a tiny grasp on reality and huge ambitions. Prior to landing her latest role, Reinders was best known for her performances on ABC's Work It and Lifetime's Sherri. She's also performed extensively in musical theatre, playing the role of Glinda in the 2005 Chicago production of Wicked (and earning herself a Joseph Jefferson Award nomination for Best Actress in a Principal Role in the process), and replacing Megan Hilty in the role during its Broadway run in 2006. Other credits include Teachers (2008), Ugly Betty (2008), Modern Family (2011) and Anger Management (2013).
Sofia Wylie as Gina Porter
Self-proclaimed "wonderstudy" Gina Porter is played by Sofia Wylie, a young actress best known as Buffy Driscoll on Andi Mack. The 15-year-old hasn't confined her talents to TV, however; in May 2019, she debuted her first single (and accompanying music video), as well as voicing the role of Riri Williams/ Ironheart in Marvel Rising: Heart of Iron. A talented dancer who's admitted to Pop Sugar "I started dancing before acting and I love it so much", Wylie stars in her own YouTube videos "Dancing with Sofia", a series which showcases her skills as she explores a new style in each episode.
Matt Cornett as E.J. Caswell
Matt Cornett takes on the role of E.J. Caswell, Nina's new love interest and the thorn in Ricky Bowen's side. As the son of two high-powered corporate attorneys, E.J. knows all the tricks in the trade and will stop at nothing to get what he wants, regardless of the drama he causes in the process. Prior to landing the role, Cornett was best known for his award-winning performance as Zach Barnes on Nickelodeon's "Bella and the Bulldogs", a role that scooped him the 2016 Young Artist Award for Best Performance in a TV Series – Recurring Young Actor. Other credits include Life in Pieces, Game Shakers, Criminal Minds, and Disney's Movie Surfers.
Mark St. Cyr as Mr. Mazzara
The school's uptight STEM teacher and constant frustration to Miss Jenn's grand plans, Mr. Mazzara, is played by Mark St. Cyr. Since graduating with a BFA in acting from Elon University, Cyr has racked up a serious number of credits, with performances in everything from Doomsday and Giving Me Life to Chicago PD, Kevin Can Wait, Person of Interest, and Law & Order: SVU.
Julia Lester as Ashlyn Caswell
E.J.'s cousin and aspiring songwriter, Ashlyn, is played by Julia Lester. Lester has been acting since the age of five and has already built up an impressive list of credits. Audiences are likely to know her best from CBS's hit comedy "Mom", Netflix's "Prince of Peoria", and go90's "Mr. Student Body President".
Larry Saperstein as Big Red
The part of Big Red, Ricky's right-hand man and secret admirer of Nini, is played by Larry Saperstein. Larry got his first opportunity to perform on stage in a production of Working at the age of 3. He's since appeared in the Late Night with Seth Meyers sketch, Teen Slang, starred as Todd in the comedy/horror film PORNO, and featured in Fan Girl opposite Kiernan Shipka and Meg Ryan. According to his website, Saperstein considers The High School Musical Series to be his most artistically rewarding project to date, and is "excited for the world to be able to revisit the legendary East High with him".
Dara Renee as Kourtney
Nina's beauty-obsessed best friend for life Kourtney is played by Dara Renee. The actress made her TV debut in 2018 but has already racked up a number of credits, including Freaky Friday (2018), Disney Channel Stars: Legendary (2018), The Kids Are Alright (2018), Black-ish (2019), and My Stepfather's Secret (2018). She's also made appearances as herself in Gimme Mo (2018), The Melody Trice Show (2018), and Celebrity Page (2018).
Frankie Rodriguez as Carlos
The school's coffee-obsessed student choreographer and color guard captain Carlos is played by Frankie Rodriguez. Fans are likely to know Rodriguez best from his performances in Going Up (2019), Only Children (2018), and Raymond and Lane (2015 -2016), along with his recent recurring role as Eduardo in Modern Family (2019).