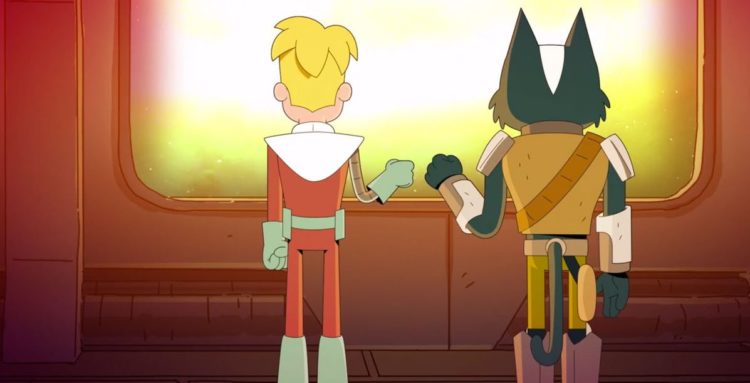 If you're not already watching Final Space, then you're not only missing an outstanding animated series, but also one of The most epic cast lists we've ever seen. We don't use that word lightly (Epic), but in this case, it applies. Gina Torres, Ron Perlman, and David Tennant, among others, all Voice characters on this hilarious, overdramatic, and well-written space story. The search for The end of The universe is something you don't see every day, but Final Space is tackling The (almost) unthinkable. We can't imagine how they managed to get all The incredible voices together, but we're thrilled they did. It's a long and outstanding list, but we want you to meet the voices behind Adult Swims "Final Space."
Olan Rogers
Voices: Gary Goodspeed, Mooncake, David Dewinter, Tribore Menendez, Fraskenhaur, Digital Gary, Jeff, and others
Olan is a fantastic comedian who started his career as a YouTube personality. Along with friends, from high school and college, he formed Balloon Shop, a comedy trio. He's best known for his work as a Voice actor and Youtube personality, and he voices Gary Godspeed, The lead character in Final Space.
Caleb McLaughlin
Voices: Young Gary
Caleb is instantly recognizable as Lucas Sinclair from The incredibly popular Netflix show Stranger Things. However, he also has an outstanding singing voice. He's been on Broadway as Young Simba. That's a pretty big accomplishment for such a young actor.
Coty Galloway
Voices: Avocato, a Tera Con Officer, Viro, and other voices
As a YouTube sensation, The handsome and charismatic Coty Galloway had millions of viewers. We enjoyed him tremendously as Avocato The cat-person on Final Space's first season.
Fred Armisen
Voices: KVN, Evil KVNs, Mega KVN, Overlord, Eduardo, Groom, Queen, Key Guardian, and more
From 2002 until 2013, Fred was a member of Saturday Night Live. He's also been in films such as Anchorman and EuroTrip. However, this talented actor also writes, produces and makes music among his many talents. He voices The annoying robot KVN (Aka Kevin) who travels with Gary.
Tom Kenny
Voices: HUE, Dewinter Son, SAMES- Boobs, Carl, Hank, Noodles, Orson and Rob, Sceptim, Helper Stevil, Thud, Phil, Timeswap Sammy, Melido, Ziznack, and other voices
If this name sounds familiar it's because you've certainly heard him before. Tom Kenny is best known as Sponge Bob Square Pants. He's been in numerous shows, films, and even video games as The beloved, hard-working, pineapple dwelling, sponge. He's also voiced Spyro The Dragon and other famous cartoon and video game characters.
Tika Sumpter
Voices: Fake Nightfall, Nightfall, Quinn Ergon, Nightfall, Melanie Dewinter, Harp Graven, Cookie Wife, and others
Most people would recognize Tika from her five years as Layla Williamson in The ABC daytime soap opera, One Life to Live. However, this gorgeous actress began as a model before moving on to The reality TV series Best Friend's Date. Since then she's been working in TV and films.
John DiMaggio
Voices: Terk, Tera Con PA, Superior Stone, Sal The Bartender, Mooncake's VoiceBox, The Arachnitects, Dr. Bluestein, Super Melido, and more
John is someone you might not instantly recognize, at least not by his face. That's because he's been Voice acting for a long time. You've heard his work as Bender on Futurama, Jake The Dog on Adventure Time, King Zog on Disenchantment, and too many others to mention, like Transformers Age f Ultron and Rick and Morty. His deep Voice and talent for creating vocally distinct characters rival Peter Cullen or Jim Cummings among The legends of Voice work.
Gina Torres
Voices: Infinity Guard Announcer, Helper Hula (season 1), Infinity Guard AI, and other voices
We can't say enough good things about Gina Torres. We adored her as The snarky, curt, and utterly B.A. second in command on Firefly/Serenity. Lately, we've been watching her as Jessica Pearson in Suits, but everything she's been a part of has been exceptional. Indeed, The casting director on Final Space managed to convince so many outstanding actors and actresses to join The cast we have to wonder whether Jeff Bezos was funding The budget.
Steven Yeun
Voices: Death Cookies, Little Cato, Helper Assistant, Mr. Graven, The Blade, Infinity Guard Captain, Grateful Alien, Officer, a Street Vendor, and more voices
We adore this Korean born actor. Like most fans, we first came to know Steven Yeun on AMC's zombie drama, The Walking Dead, where he played Glenn, The heart of The main cast of savvy survivors. Sadly, all great things must come to an end. We'll never forget that Death scene. Glenn may be gone, but luckily we still have Steven around.
Ron Perlman
Voices: The Burner Tribe Leader and John Goodspeed
Ron Perlman needs no introduction. You know him as Hellboy or The Leader of The Sons of Anarchy. If you grew up in The 80s and early 90s, then you watched him as Vincent on The TV show Beauty and The Beast. The list goes on for days. One thing is for sure. If a show or movie has Ron Pearlman on The credits, it's worth watching.
David Tennant
Voices: Jack/The Lord Commander
If you have to ask who David Tennant is than you haven't been watching Dr. Who. For that matter, you managed to miss him in Fright Night, Good Omens, Jessica Jones, and a laundry list of outstanding roles as long as our arms. While he's arguably best known as The Tenth Doctor, that's a very limited view of the incredible talent that is David.
Shannon Purser
Voices: Shannon Thunder
As one of The newer actresses on Final Space, we have to give Shannon Purser credit. It's got to be a Little difficult to walk among stars with such storied careers as a relative newcomer. However, her presence on The show is enough to tell you how talented she really is. You probably caught her as Ethel on Riverside or playing Barb Holland on Stranger Things. Regardless, we look forward to hearing a whole lot more from this incredibly talented redhead.
Other Voices
There are so many genuinely exceptional Voice actors on this show. Here are The rest of The cast members thus far:
Alan Tudyk as Frostbears, Hushfluffles, Todd H. Watson, and more
Andy Richter as Gatekeeper
Ashly Burch as Ash Graven
Christopher Judge as Oreskis
Claudia Black as Sheryl Goodspeed
Conan O'Brien as Chuck and Clarence Polkowitz
Jane Lynch as AVA, Mrs. Graven, Bride, and Dartricio
Keith David as Bolo
Ron Funches as Fox
Tobias Conan Trost as Eric, The Order of The Twelve Announcers, Warthrent, Nightfall's Ship AI, Infinity Guard Base Announcer, Catoloupe, Henry and Richard
Vanessa Marshall as Helper Hula, and Invictus
Final Thoughts
We could binge watch Final Space a dozen times and never get over how incredible The lineup of characters and actors are. Of all the shows on Adult Swim right now, this is by far our favorite. Were you surprised by any of the voices? Let us know in the comments section below.