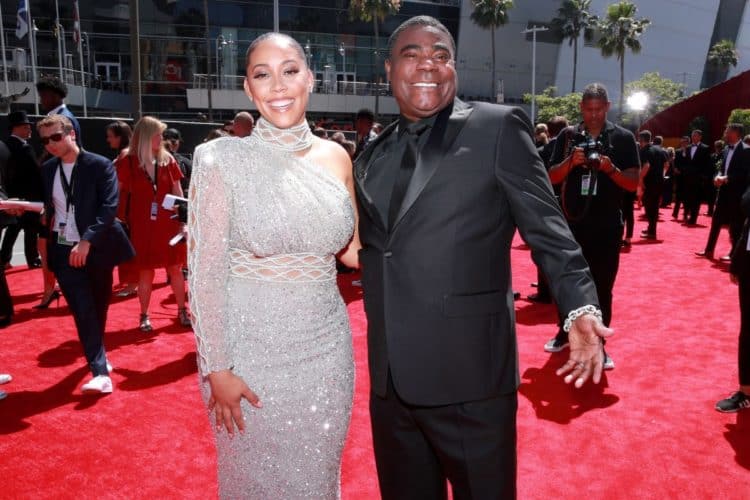 Megan Wollover is not a household name, but she's married to one. Her husband is famed comedian Tracy Morgan. She's also done some great work in her life, but she's yet to achieve that 'everyone knows my name immediately when they see my face,' status. She's an actress, she's a producer, a wife, and a mother. Sadly, her marriage is on the rocks and the couple has announced that they are no longer going to seek a future with one another. It's time to learn more about this lovely woman and what she's been up to throughout her own life.
1. She's Young
We don't know her exact date of birth, but we do know that she was 26 when she gave birth to her daughter, Maven, in July 2013. That means she's close to 32/33 in 2020. She's significantly younger than her husband, who was born in 1968 and is well into his 50s already. There are some reports that her date of birth is November 7, 1987.
2. She's Got Stepchildren Her Own Age
We still don't know her exact year of birth, but we assume it was around 1987, give or take a year. This means she's currently the same age, or perhaps younger, than some of her husband's children. She does have a stepson born in 1986, another in 1988, and another in 1992.
3. She Was With Morgan for Many Years
When the couple wed in 2015, it was after a four year engagement, the birth of their daughter, and who knows how long they were dating before they became engaged. We know that they were together for some time, though, so this means that the couple met when she was likely in her very early 20s.
4. You've Seen Her Face
Aside from the work she's done acting and producing, you know you recognize her face. That's because she's spent some time co-hosting Entertainment Tonight, and that makes her someone we've all seen more than a few times. From what we understand, she's quite good at what she does, and she is a pleasure to watch when she's working.
5. She's A Good Mom
If there is one thing you can tell when she shares stories and photos of herself and her daughter, it's that she loves being a mom. She's clearly good at it, her daughter obviously adores her, and she's in her happy place when she's in her mom-mode role. We love that about her.
6. She's Got a Successful Career
She became an actress back in 2010 with a role in "Unholy Roller," on television. She was Letisha in the show, and she was a quick fan-favorite. She also had the honor of producing an episode of a show called "The Last O.G.," and she has also hosted, which we went into already.
7. She's Private
Despite having a successful career, being married to a celebrity, and being active on social media, Megan Wollover does a spectacular job of maintaining her privacy and being quiet about her personal life. We are wildly impressed just how little she manages to share with the world despite her fame.
8. Their Engagement Announcement Was a Big One
There are so many creative ways to announce your engagement to the person you hope to spend the rest of your life with, but her engagement announcement to Morgan was a little more special than most. They made their announcement on a red carpet at the 2012 Emmy Awards Show.
9. Their Separation is a Shock
It was only a few months ago that Tracy Morgan spoke out about their quarantine life as a family and mentioned that they've used this quality time together to actually become more patient with one another, to become closer as a family, and to grow. It seems like that wasn't a two-way street considering his wife is the one who recently filed for divorce.
10. She Helped Her Almost Ex Get Through His Car Accident Recovery
In 2014, Tracy Morgan's limo was hit by a Walmart Truck on a busy road, and it left his friend dead and him in a wheelchair for approximately 5 months. During his recovery and the long time it took for him to find some comfort in his new life, his fiancé was there to help him through all of it. She was the rock that held their family together and helped him during his quest to get back on his feet, literally. They went through a lot and it made their love stronger, but we guess that love didn't quite work out.