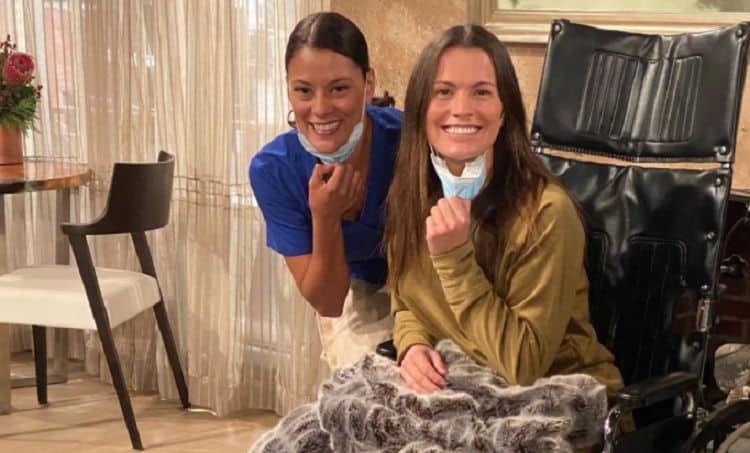 Melissa Claire Egan's resume may show that she only has a little over a dozen on-screen credits, but in reality, she's been on our screens more than a thousand times. Her roles in shows like The Young and the Restless and All My Children have earned her a well-deserved place in the world of soap opera stardom. Although people who primarily act in soap operas are sometimes looked down upon, Melissa has shown the world that she is the real deal. In addition to finding lots of success in her career, she also has a happy personal life and she and her husband recently announced that they are expecting a son. Keep reading for 10 things you didn't know about Melissa Claire Egan.
1. She's A UNC Alum
Melissa is originally from New York, but she decided to head down south when she was ready for college. She attended the University of North Carolina at Chapel Hill here she earned a bachelor's degree in dramatic art. She went on to continue her studies at the British American Drama Academy.
2. She Likes Giving Back To Others
Empathy and compassion have always played major roles in who Melissa is and she enjoys being able to use her success to help other people. Throughout her career, she has aligned herself with several charity organizations including Dharma Rescue which is an organization focused on helping dogs with disabilities.
3. She Has An Account On Cameo
Melissa loves getting the chance to interact with fans and it's fairly common to see her responding to questions and comments on Twitter. Thanks to Cameo, however, she can now take those interactions even further. Through the platform, she records and sells personalized video shoutouts for her fans. She sells each video for $40 and donates the proceeds to charity.
4. She Was On The Box For A Board Game
If you grew up in the 80s and early 90s, you probably have fond memories of the truth or dare game for girls called Girl Talk. What you may not have known is that Melissa was one of the young models featured on one of the versions of the box. Actress/singer Christina Millian was also in the photo.
5. She Was In Dawson's Creek
When it comes to TV shows about angsty teens, Dawson's Creek was the kind of the early 2000s. Melissa made her first on-screen appearance in an episode of the show in 2001. She returned in 2003 for another episode, but she played a completely different character.
6. She's in A Band
Acting may be Melissa's bread and butter, but it's not the only way she likes to express herself. Music is also a big part of her life and she is a member of a band called Canal Street. In addition to singing, she also likes to dance and come up with choreography.
7. She's An Emmy Nominee
All of the work Melissa has put in over the years certainly hasn't gone unnoticed. In addition to admiration from fans, she has also earned the respect of other people in the industry. She has been nominated for five Daytime Emmy Awards and though she hasn't won one yet, many feel her time is coming.
8. She's Dealt With Infertility Issues
The fact that Melissa is expecting a child is a huge deal for her because she's struggled with fertility in the past. In July 2020, she shared a photo of herself at a fertility clinic with a caption that read in part, "This is the real stuff women go through, and I thought I'd also share this, to all the wonderful women out there, including my own personal tribe of best girlfriends and supporters. Being a woman isn't easy!! But we're tough and WE GOT THIS."
9. She Doesn't Have A Hard Time Keeping A Straight Face On Set
Chelsea, Melissa's character in The Young and the Restless, has recently gone through some health issues that have seriously changed her storyline. After suffering a stroke, she is unable to walk or talk which means that much of Melissa's time on camera involves her just sitting there. Many viewers have wondered if it's hard for her to keep a straight face, but the answer is no. Melissa told Soap Opera Digest, "It's very serious because Chelsea is in a bad place, so there's never been a time where I think it's funny and I can't stop giggling."
10. She Was In An Episode Of Made
The MTV series Made followed young people who had dreams of being 'made' into something/someone different. Oftentimes, they wanted to become performers of some sort. Melissa appeared on an episode of the show in 2003 to help someone try to become 'made' into a soap opera star.