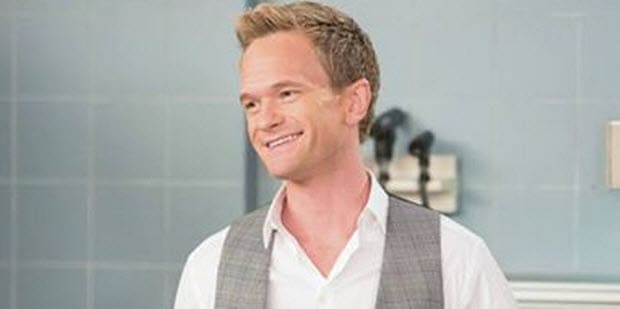 When your wedding day is only 22 hours away, you are most likely celebrating with your closest friends and family at your rehearsal dinner. That was the intended plan for Robin (Cobie Smulder) and Barney (Neil Patrick Harris) in the latest episode of How I Met Your Mother entitled, "The Rehearsal Dinner." However, the episode would not have been very entertaining if everything worked out as planned. Spoiler Alert: There is a happy ending.
The episode opens with a disgruntled Robin watching over a handcuffed Barney. He had been "arrested" by the cop at the laser tag arena. Barney believes that Robin has planned the dinner here because she knows how much Barney loves to play the game. This is when the story flashes back to show how this all came about.
Barney and Robin have been known to play practical jokes on one another. The whole concept of how Barney proposed to Robin was a huge hoax. To get back at him, Robin gave Barney an epic bachelor party filled with many mishaps. When the couple was deciding on venues for the wedding, Robin had her heart set on getting married in Canada. Barney nixed the idea. When Barney had the elaborate plan of having a laser tag rehearsal dinner, Robin quickly vetoed that choice.
Even though Robin denied Barney's request of playing laser tag, he thinks she is pulling another prank. He ends up at the laser tag arena and is apprehended after threatening to put scalding hot nacho cheese on an employee when he alerts Barney there is no rehearsal dinner/laser tag event going on. Robin comes to his aid and the two are waiting for the actual cop to take Barney to prison.
I did mention earlier that there was a happy ending to all of this. It turns out that this was a well thought out scheme put together by Barney to give Robin a memorable rehearsal dinner. The laser tag arena was actually an ice skating rink. Barney had all the guests move to this venue to skate and celebrate all things Canada related. Barney wanted to show Robin some of her heritage since she was not able to have her wedding in the country she grew up. Even Alan Thicke made an appearance as himself to congratulate the happy couple.
Ted (Josh Radnor), Lily (Alyson Hannigan), and Marshall (Jason Segel) played very minor roles in this outing. Ted decides to learn the piano and play a song during the rehearsal dinner. He also agrees to wear a Liberace outfit while performing the song. Once Ted became aware of Barney's plan, he decides to take up ice skating lessons instead. Not surprisingly, he wipes out within minutes of putting his skates on. Lily finally breaks the news about Marshall getting the judgeship and spends the rest of her screen time devoted to proving she can keep a secret. Â The secret is out: Lily can't keep a secret! Marshall was only shown in flashbacks as he is still en route to Farmhampton. I was surprised they did not pan over to Marshall making the five mile trek to the inn after last week's bus mishap, but hopefully the next episode will focus on that.
As much as I like Barney and Robin, I do find myself to be more fascinated by the three other characters. I am hoping the next few episodes that air will not only feature more of Ted, Lily, and Marshall, but also more of "The Mother". With 12 episodes already aired, the season is half over and we still have a lot of unanswered questions! However, kudos to CBS for airing a new episode every week since the show premiered in September.
[Photo via Facebook]