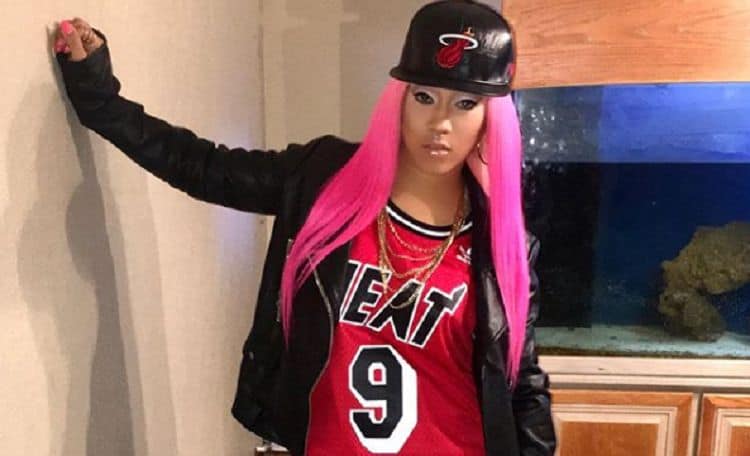 Born in 1985 to a single mother, Kenisha Myree, popularly known as Miami Tip, has made a name for herself in the entertainment industry mostly through her career as an exotic dancer. She has transitioned to music and is doing quite well for herself as she hopes to make her dream collaborations with Jay-Z and Rick Ross come true one day. Her artistic skills also ensure that she writes most of her songs based on her feelings at the moment hence the passion behind them. Let's give you a sneak peek into how she got started in exotic dancing and a few more details about her life.
1. She was the first to be interviewed for "Love & Hip Hop: Miami."
Miami Tip became a familiar face on television after being cast in season 1 of "Love & Hip Hop: Miami." She said that she was the first person to be approached in 2016 about being on the show. For three years, Miami Tip waited until it came to the point that she felt that there would be no series, but it eventually came to pass, and it has been quite lucrative. At the time of being interviewed, Miami Tip was very popular in Miami; hence she concluded they were interested in anyone famous.
2. She does not want anyone to be inspired by her exotic dancing lifestyle
Most people choose a career that they are proud of but not Miami Tip; if she were to advise anyone, she would tell them to go down a different path. She believes although in the past being a stripper was treated like a top-secret mission, nowadays, little girls want to be strippers, especially when they are inspired by the amount of money those in the business make. However, Miami Tip feels that even rapping about it to the point where young girls think it is okay to join the hustle, is not right. Therefore despite being one of the renowned dancers, she does not glorify her work.
3. She had a life-changing accident
Everything, whether good or bad, happens for a reason, and seven years ago, Miami Tip too learned this lesson the hard way. As she was swinging back and forth on the beams trying to catch herself on a 35-feet pole, she miscalculated her step as she opened up to VH1. Miami Tip thought the pole was much closer than it was, resulting in her having a tragic fall that led to her sustaining severe injuries; she lost a kidney and had her jaw wired shut. She still experiences some pain from the accident, thus has frequent dentist visits.
4. She can be flirtatious
Miami Tip got herself many compliments regarding how she knows how to diffuse a situation. When she and her ex, Gunplay, had a business meeting, she began twerking on the pool table, and that caused Gunplay to tell his then-girlfriend, Keyara, that things had gone from business to pleasure. Of course, Keyara reacted by going after Miami Tip, who instead said that even if she had made a move on Gunplay, she was not interested in him, but was instead attracted to Keyara.
5. Why she wrote the book "The Bottom Line."
The businesswoman admitted that she likes reading, and one author that has been her inspiration is Donald Goines. She cited books such as "True to The Game" and "The Coldest Winter" as those that she could relate to hence was determined to pen down her own. In her interview with Urban Magazine, Miami Tip disclosed that she wanted people to understand the various reasons that push women to become strippers. According to her, the public only sees fame and money but never understands the motives.
6. Why she quit stripping
Miami Tip boasts that she changed the stripping game and upped it up a notch. She said that although nowadays women are doing it for attention, for her, she viewed it like any other job that needed her total focus. She was frustrated by those who used social media to gain public attention because that resulted in strippers being viewed as attention seekers. Since she could not compete with those who were twerking and in the process, wash down her principles, Miami Tip thought it best to quit and concentrate on her music.
7. She hates that people mistake her for being mean
You cannot make people think of you in the way that you would like them to; for Miami Tip, her demeanor sends off the wrong kind of message for her fans. They think she is very mean, yet the former exotic dancer thinks of herself as a down-to-earth and funny person.
8. She was criticized for returning to stripping after a nearly-fatal accident
When someone tells you that they almost died and had to be hospitalized for a few weeks, you hope at the back of your mind that they have learned their lesson and will take life much more seriously. However, Miami Tip shocked her fans when, after taking a two-year break to assess her life, she still got back on the pole. Some called her stupid for doing something that almost killed her, and others said that if she was looking for sympathy, then she would not get any.
9. Why she became a stripper
Like Miami Tip says, everyone has their reasons for going on stage; some do it for the glory while some do it because they have to make money. Miami Tip falls in the latter category because she found herself alone and pregnant in her teenage years without any source of income. Therefore to provide for her son, Sincere, she became an exotic dancer and perfected her skills so much that she was one of the top dancers at the King of Diamonds.
10. She has had several stage names
Before becoming "Miami Tip," the former dancer had a couple of stage names, one of which is "Fantasy Red" that she used to make her debut in the industry. Later on, as her friends watched her dance, they thought she was so fast and compared her to those on Nelly's "Tip Drill" video. She felt it also suited her hence started using it and the name stuck before changing it once again to the current one.