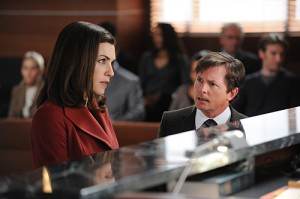 Michael J. Fox is coming back to television and I couldn't be happier. As far as I'm concerned, that man can do no wrong. I might even check out the re-released anniversary edition of Back to the Future in theaters now that he's back on my radar.
Fox will be appearing in the November 9 new episode of The Good Wife and will be facing off against Alicia Florrick as opposing council in a pharmaceutical trial. This is shaping up to be a terrific episode, actually. Not only is Fox making an appearance, but we'll also see Titus Welliver (who is brilliant as the State's Attorney on the show), Lili Taylor as a friend of Kalinda's and Anika Noni Rose reprising her role as lawyer Wendy Scott-Carr.
CBS has released several promo photos for this upcoming episode, which you can view below. I can't wait to see Fox and await word as to whether we'll see him again.
ALICIA AND THE TEAM ARE CAUGHT OFF-GUARD WHEN THEY GO UP AGAINST A BRILLIANT DISABLED ATTORNEY IN A TEST CASE FOR A CLASS ACTION SUIT AGAINST A PHARMACEUTICAL COMPANY, ON "THE GOOD WIFE," ON TUESDAY, NOV. 9

Emmy and Golden Globe Award Winner Michael J. Fox ("Family Ties," "Spin City") Guest Stars as the Pharmaceutical Company's Attorney, Louis Canning

SAG Award Winner Lili Taylor ("Six Feet Under") Guest Stars as Donna Seabrook, Someone Who Knows Kalinda's Secrets

Anika Noni Rose ("Dreamgirls") Returns as Wendy, the Third Candidate in the State's Attorney Race

"Poisoned Pill" – Alicia, Diane and Will must regroup when they're caught off-guard by a brilliant disabled attorney, Louis Canning (Michael J. Fox), who uses his condition to sway a jury during a test case for a huge class action suit against a pharmaceutical company. Meanwhile, Peter's campaign is at a loss as to what to do with rising star Wendy Scott-Carr (Anika Noni Rose), and Kalinda reaches out to a former friend, Donna Seabrook (Lili Taylor), to tell her to stop spilling her secrets to Blake, on THE GOOD WIFE, Tuesday, Nov. 9 (10:00-11:00 PM, ET/PT) on the CBS Television Network.

SERIES REGULARS:
Alicia Florrick…………………. Julianna Margulies
Diane Lockhart……………….. Christine Baranski
Will Gardner………………………….. Josh Charles
Kalinda Sharma……………………. Archie Panjabi
Cary Agos……………………………. Matt Czuchry
Grace Florrick……………………. Makenzie Vega
Eli Gold………………………………. Alan Cumming

RECURRING CAST:
Peter Florrick…………………………… Chris Noth
Glenn Childs…………………………. Titus Welliver

GUEST CAST:
Derrick Bond…………………………. Michael Ealy
Blake…………………………………….. Scott Porter
Louis Canning……………………… Michael J. Fox
Caitlin Fenton………………….. Rachel Brosnahan
Donna Seabrook………………………… Lili Taylor
Judge Robert Parks………………. David Fonteno
Jim Moody…………………………. Skipp Sudduth
Wendy Scott-Carr……………. Anika Noni Rose
Virginia Sun…………………………. Leslie Hendrix
Jon-Erik Shapiro………………………. Seth Fisher
Dr. Nathan Elias………………….. Stephen Singer
Patrick Sturges…………….. Peter Jay Fernandez
Dr. Theo Lawton…………………… Daniel Gerroll
Dr. Randall Booth…………………….. Greg Keller
Erica Hill……………………………………….. Herself
Leslie Hollis……………………………. Mary Bacon
Judge Jane Moretti……………………. Leslie Lyles
Natalia…………………………………… Mary Faber
Mr. Raymond Bay……………. Michael Nostrand
[imagebrowser id=707 template = flipped]
clarissa @ tvovermind.com
twitter.com/clarissa373