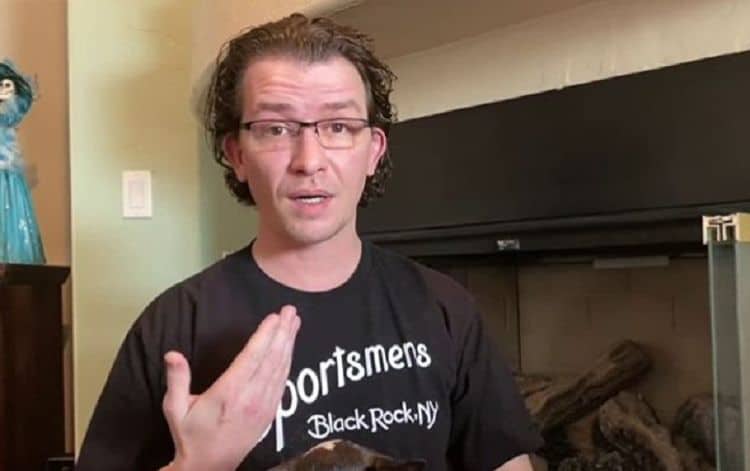 The biggest talent show on American television never fails to disappoint. America's Got Talent is always a source of great entertainment and is always an incredible show of the most impressive talent there is out there. While the show features a variety of performers, the singers somehow manage to steal the spotlight majority of the time. American singer Michael Grimm is one of those people, and he's been a fan favorite ever since his audition aired on TV. Whether you're already familiar with Grimm or not, we've compiled 10 things about the singer that you should definitely know about.
1. From the South
Michael Grimm refers to himself as a "true son of the South." He spent most of his childhood in a small town in Mississippi, and he came from humble roots. His parents were not wealthy and worked hard in order to make a living. His mother cleaned churches in order to provide for the family, and his family didn't own a lot. Grimm remembers the camper where he lived that was ridden with holes. Though that could easily have been a difficult situation for anyone, it never bothered Grimm even to this day.
2. Grandparents
Because his parents could no longer afford to care for him and his sister, Grimm ended up staying the remainder of his childhood with his grandparents. This transition became his gateway to music, as his grandmother loved listening to country music. Some of his grandmother's favorites included all-time favorite musicians such as Hank Williams and George Jones. This early exposure to some of country music's best would prove to be a great influence to Grimm's music later on in life.
3. First Job
It might be difficult to believe, but Grimm got his first singing job when he was only 11 years old. Grimm sang at a wedding one time, and he performed so well that he attracted the attention of one of the guests. That guest made him an offer he couldn't refuse. Although he couldn't get paid for the job, he was offered to sing karaoke sets at the location of the wedding as a regular gig as long as he brought a legal guardian with him. They would set him up with a tip jar, and he could keep whatever he got in the jar. Grimm took the job and ended up singing there for many years to come.
4. First album
Fast forward to a few years later, Grimm released his first full album in 2007. It seems as if the talented young man knew exactly what he was destined to do with his life. He's had the talent for music ever since he was young, and he just went with it. Grimm released his debut album three years before he auditioned for AGT.
5. Guitar
Grimm's history with the guitar is equally fascinating. When he was 13 years old, Grimm was discovered by a Gospel artist from Nashville, Ann McNair. McNair gave Grimm a guitar and taught him three chords to get him started with playing. McNair was the one that got Grimm his first indie record deal. However, Grimm knew that he had to master the guitar if he were to be successful in the industry. He spent most of his time as a 16-year old mastering the guitar, and it definitely paid off.
6. R&B Switch
The switch from country to R&B was palpable for Grimm. He knew exactly when he wanted to do it and why. When he got hired as a guitarist and backup vocalist for a live celebrity impersonation show in Biloxi, Grimm met a talented fellow singer named Cookie Watson. Watson's job was to impersonate Tina Turner, and she did it so well that Grimm became so enamored with soul music. Grimm then started to listen deeply to some of R&B's greats including Otis Redding, Etta James, and Sam Cooke among so many others.
6. Love
Most of Grimm's fans know about his long-time girlfriend turned fiancée, Lucie Zolcerova. Grimm actually proposed to her while he was a guest on The Ellen DeGeneres Show. However, many people don't know that the song that catapulted Grimm to his fame on AGT was actually dedicated to his lovely woman. That song was When a Man Loves a Woman, and as soon as Grimm belted it out, it became an instant classic on the show.
7. AGT
Grimm auditioned for AGT in 2010, and he was clearly headed to the top even from the very beginning. All the judges were impressed by his audition performance, and he was promoted to go to Vegas Week. Grimm also wowed at Vegas Week, even though he exceeded his allotted singing time. In the end, Grimm ended up bringing home the bacon and winning the coveted prize of being America's greatest talent for that year.
8. Net Worth
Because of his grand AGT win, Grimm has managed to accumulate a decent amount of net worth. His current net worth is at $3 million–$1 million of which came from his AGT winnings. It's certainly low according to celebrity standards, but Grimm is just on his way.
9. Generosity
Instead of spending his AGT winnings lavishly, Grimm decided to give back instead. More so, he gave back to the ones that gave him so much when he was growing up. With the money he won from the show, Grimm built his grandparents a new home. It shows such depth and character to do something like that, and it's just another thing we admire from the talented musician.
10. Life After AGT
When he won AGT in 2010, he became the first headliner for America's Got Talent tour shows. He even had the opportunity to sing alongside a legend, Smokey Robinson. He signed on to Epic Records, and one of the songs on his album was even written and recorded by Alicia Keys. He has released several albums at this point, and he continues to make great music to this day.