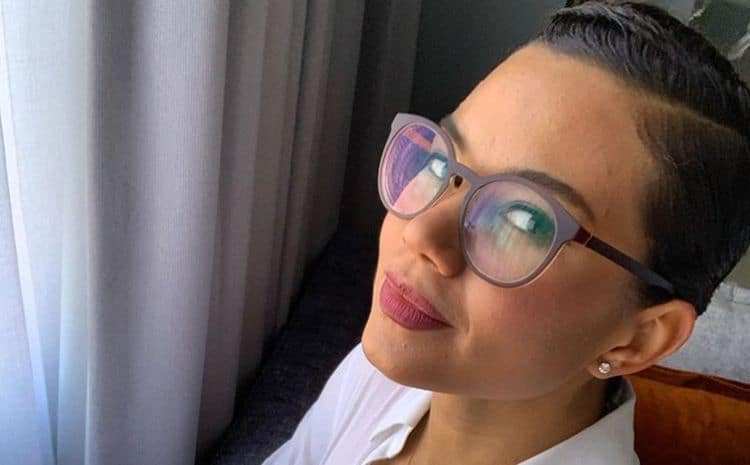 Michele Weaver is best known for her performance in the lead of the romance drama series "Love Is." The series was shown on the Oprah Winfrey network and sent a powerful message by detailing the lives of the main characters navigating their way through life as a power couple in Black Hollywood. Here are 10 interesting facts that we learned about Michele that you probably didn't know.
1. She lost the leading role when the series was canceled
Weaver was set to return for the second season of "Love Is," as the series was approved for a second round, but there were some legal issues that forced the cancellation. Michele had nothing to do with it, however, it did impact her contract. The show was canceled late in 2018 when OWN canceled the series. Salim Akil, whom the story was about was accused of copyright infringement and domestic violence, so the series was cut short.
2. Michele is a native of Colorado
Michele Weaver was born in the town of Littleton, Colorado. Her father was from the state and her mother was of Haitian descent. She grew up in her hometown and lived there until it was time for her to leave for college.
3. She attended Pepperdine University
After graduating from high school, Michele had a passion for acting, so she geared her education towards this objective. She attended Pepperdine University, and afterward launched her career, at first performing on stage in the theater. This gave her some great experience because stage acting is before a live audience and it requires focus and concentration to get the lines right the first time around because there really are no second chances.
4. Weaver has worked in four segments of acting
Michele Weaver is a veteran actress who has four different kinds of acting experience to her credit. She has appeared in commercials, as well as performing in stage productions at the theater, she has appeared in television shows and she has also been cast for film roles.
5. She launched her professional acting career in 2011
Although she has only been a professional actress for less than 9 years, Michele Weaver already has 28 acting credits in her portfolio. She first appeared in a minor role in the film short "One Night at Monich's" in 2011. This was followed by yet more small parts in 2012 in the film short "Unidentified," and in "Death Suspects a Murder." She landed her first recurring role in 2013 as Amber Gray in the television series "The Cost of Living." She also appeared in the pilot of the TV series "Fox Shortcoms Comedy Hour" in 2013.
6. Her popularity picked up after "The Cost of Living.
In 2014, Michele's acting career took off. She was still appearing in minor roles but she was landing a lot of them. She appeared in the television series "Day Job" for one episode, and she also landed parts in the film shorts "Diana Leigh," and "Emancipation." She also appeared in the video "The Miracle of Tony Davis" as Serena. Michele's schedule picked up the next year with yet more small parts in "The Daughters of Eve," "Sister Code," "Switched at Birth," "SnowPiffs," and the TV movie "A Teacher's Obsession," and the short "Evolution." In 2016, she appeared in "2Lava 2 Lantula!" "Superpowerless," and "Cooper Barrett's Guide to Surviving Life," followed by a role in "Illicit" in 2017.
7. She is still going strong
Most recently, Michele appeared in "Cathedrals" after the failure of "Love Is." She went on in 2019 to land roles in "Nighthawks," "Briarpatch," "Portals," and "Doly Parton's Heartstrings." For the current year, she landed a recurring role in the television series "Council of Dads," and has just completed work in "Dance in Flight: The Film" as a dancer and as Morgan in the film "Beverly H. which are both in the post-production stage of completion.
8. Michele Weaver is also a director
When we were looking into Michele's career history, we learned that she has also tried her hand at directing. She is credited as the director for the film short "Last Words" which was shot in 2020. The short film is about a man and his fiancee who receive news that changes their lives and makes it necessary for him to seek new goals in his life as he makes his way through the new circumstances. The project was written by Ryan Napier and Terrence J. Williams and it stars Tosin Morohuinfola, Ryan Napier, and Deborah Joy Winans.
9. Michele Weaver is a private person
We attempted to find out if Michele is single or if she currently has a partner. She is a very private person who doesn't share anything about her romantic life on social media. We're assuming for now that this means she is single and focusing upon her carer in film and television, which for the time being is going incredibly well. There hasn't been much shared about other details of her personal life including her current age, her birthday, or her astrological sign. Although some sites estimate that her personal net worth is around $1 million, there has been no evidence to support that assertion.
10. She is a rising star
Although Michele Weaver has several years of experience in acting to her credit, her career is blossoming. She's been staying busy pursuing new acting roles and for the past several years, she hasn't seemed to have any problem finding work. She is one to keep your eye on. We believe that she has the potential to go even further with her career in the years to come. Her workload has steadily picked up, although the recent COVID-19 pandemic has put a damper on filming for most television series' and films. When it's all over we expect her to be back on the job keeping us entertained with her unique style of acting.