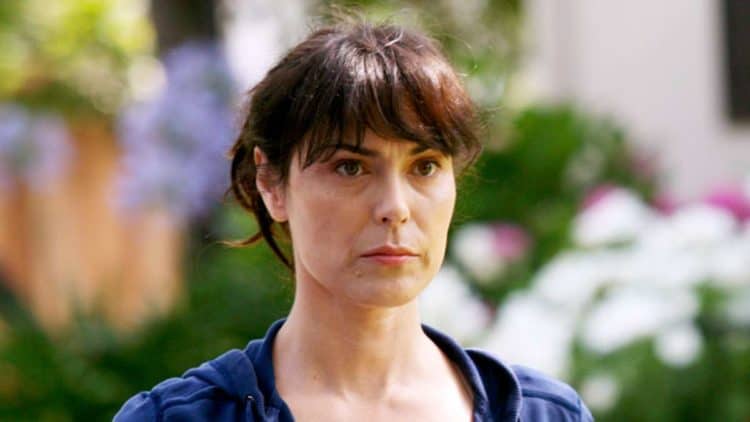 Michelle Forbes is an American actress who is best known for her dual role in "Guiding Light," a long-running and popular daytime soap opera. She also starred in several other films and television series. Along the way, she established a huge following of fans who are always interested in learning more about her. To satisfy these desires, we looked into her history as well as what she's been up to recently and we made some interesting discoveries. Here are 10 things that you didn't know about Michelle Forbes.
1. Her Birthday
Michelle was born on January 8, 1965, in Austin, Texas. Her parents named her Michelle Renee Forbes Guajardo. She turned 54 years old in January of 2019 but she has a birthday coming up shortly. She is of Mexican American heritage. She was raised in the state of Texas for most of her life.
2. She initially wanted to be a dancer
When Michelle was a young girl, she had the dream of becoming a ballet dancer. She attended the High School for the Performing and Visual Arts in Houston, Texas as a teen. She wasn't thinking about a career in acting when she first began her attendance at the school. When she was 16 years old, she was on vacation in New York City. This signaled a turning point in her life as she auditioned for a part in a film. Even though she wasn't chosen to appear in the movie, she felt inspired and so she signed with the William Morris Agency and this is when she launched her career in professional acting.
3. She is an award-winning actress
Ms. Forbes received accolades for her dual role performance in "Guiding Light." She received three nominations for a Saturn Award in addition to receiving one Saturn Award. In addition to this, she received a Daytime Emmy Award nomination for her role in "Guiding Light as both Solita Carrera and Sonni Carrera Lewis when she was just 22 years old.
4. She has been married
Michelle Forbes did not marry until 1990. She married fellow actor Ross Kettle but the relationship didn't work out. The couple didn't have any children together. They divorced in 1999 after trying to make the marriage work for nine years. Michelle does not have any children.
5. She is a veteran actress with an impressive portfolio
Michelle Forbes has an acting portfolio with a whopping 71 acting credits to her name. She launched her acting career in 1987 with a dual role in "Guiding Light." This was followed by a couple of minor roles in television series. She made her debut in film in the movie Kalifornia as Carrie Laughlin in 1993, followed by a role in "Love Bites" the same year, and "The Road Killers" the following year. In 1991 she landed a recurring role as Ensign Ro Laren in Star Trek: The Next Generation" television series until 1994. She continued to appear in a series of minor television roles until landing another recurrent role as Dr. Julianna Cox in "Homicide: Life on the Street" from 1996 through 1998.
6. She is still going strong with her acting career
Michelle continued to appear in several television series' and film roles throughout her 1990s until the present. Her most recent projects have been in a recurring role as Valerie Edwards in the television series "Berlin Station between 2016 through 2019, in an episode of Grey's Anatomy in 2019, and in a recurrent role as Ellen Becker on the series "Treadstone" in 2019.
7. She has specific trademarks
There are a few things that Michelle is best known for as an actress. These include her model-like statuesque figure, her large hazel eyes, her dark hair, and pale skin and her deep husky voice. She has made a habit of playing characters who go against authority and these are just some of the things that have opened a lot of doors in the acting industry for her.
8. Michelle Forbes doesn't have to look for work
At this point in her career, Michelle Forbes can pick and choose among the roles that she prefers. This started to be the case in 1993 when the casing director approached her about reprising her role as Ro Laren from "Star Trek: The Next Generation" again in "Deep Space Nine." She turned down the offer because she really didn't want to make the commitment to appear in a regular role at that time. She has the luxury of taking the roles that she is interested in without causing damage to her acting career because she is just that much in demand.
9. She learned a new language for a role
Michelle Forbes is a smart lady and she learns very quickly. When she accepted the part of Susan Metcalfe, the character was deaf. It became necessary for her to learn British Sign Language for her role in the BBC series "Messiah," which aired in 2001. It only took Michelle six days to learn the new language well enough to fulfill her role.
10. Her work has received high scores on Rotten Tomatoes
While ratings traditionally run a bit low for some actors Michelle received some of the highest ratings we've seen for one of her films. Although she only received an 11% approval rating for her performance in the film "Perfume" in 2001, she totally made up for it with her nearly perfect reviews for another. Her highest scores came in at a whopping 97% approval rating for her performance in the film "Columbus" in 2017. According to the site, this was the film that she is the best known for and received the highest marks of all of the projects she has worked on throughout the years of her career in acting, and there have been dozens.