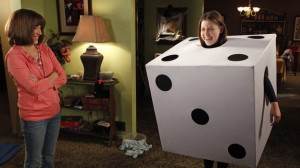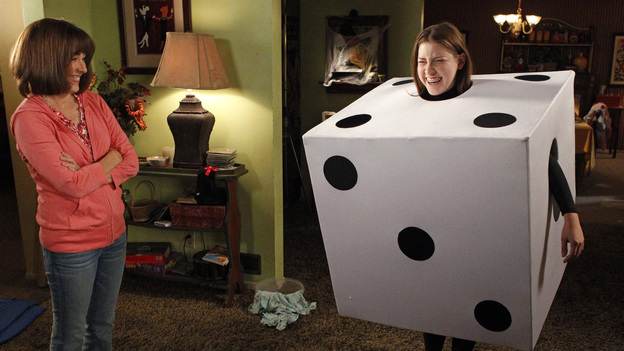 Halloween is approaching, and Sue has crafted herself a dice costume for her first high school costume party. When she returns home, she's upset because all the other girls were wearing skimpy, sexy costumes–they must have got a memo that she didn't get. She turns to Mike for advice, but he doesn't want to give it. He desperately tries to get her to talk to her mom, but Sue presses on. She wants to know what boys want, and she doesn't understand why you have to wear a skimpy costume to get boys to like you. Mike's advice: "Tomorrow is a new day."
Frankie is guilted into taking Brick's social skills group out trick-or-treating. She takes Brick to find a costume, but none of them suit him. He wants to be a leather-bound book with pages, illustrations and writing. Brick has no interest in going trick-or-treating with the other kids, because they're weird. Frankie points out he's weird too, and that's why he's in the social skills group to begin with. At the store, Frankie accidentally runs her cart into another man's cart. She says sorry, but he calls her "stupid lady." Frankie is highly offended by this, but doesn't say anything. She complains to Mike about it, who says the guy was a jerk and to just shake it off. Frankie thinks she's too nice.
Mike asks Frankie if she talked to Sue about the costume and boys situation. Frankie didn't know anything about it. Apparently Mike had explained it to her for 10 minutes, but she was half asleep in bed. Mike retells the story, and Frankie doesn't like the advice–or lack thereof–he gave Sue. He should have told her that there will be lots of guys who will like her for who she is. When Mike tries to get Frankie to go talk to her, Frankie says that girls who are closer to their father end up having sex later in life. Mike goes to talk to Sue.
Sue has a ton of questions for Mike: What do boys want? Is a "rockin' bod" the most important thing? Do you not get any points for being interesting? Is her smile too teethy? Mike rambles about her finding someone who likes the things that are good about her, and it doesn't really make any sense. Then he tells her that maybe she should stop dressing like a third grader. Sue isn't offended at all and takes his message as an action item.
Over the next few days, Sue wears some awesome clothes ranging from extravagant hats to ponchos to animal print shirts. Mike asks Axl if Sue is doing okay at school. Axl says people think she's just one of those people who dress up for the whole week of Halloween, but once November hits he won't be able to help her. With that, Mike gives Sue money to go buy a new outfit and tells her to ask the girl at the store for help.
It's finally Halloween day. Brick has decided he's going to be the ghost of Ernest Hemingway and has cut up his own sheets to do so. Axl and his friends have decided they're going to trick-or-treat around the neighborhood, come back to the house, change their costumes, and repeat. They will do this until they have cleared the neighborhood of candy and then they will sell it back when everyone runs out. "Sell the suckers back their suckers."
Sue appears in her new age-appropriate shirt to go out to another party. It looks nice, but Mike thinks it shows too much. He can't convince Frankie to agree, so he tries to convince Sue to wear another costume since it's Halloween day. It's not a costume party though, so he gives in and slowly–very slowly–drives her to the party. Axl is trick-or-treating faster than Mike is driving.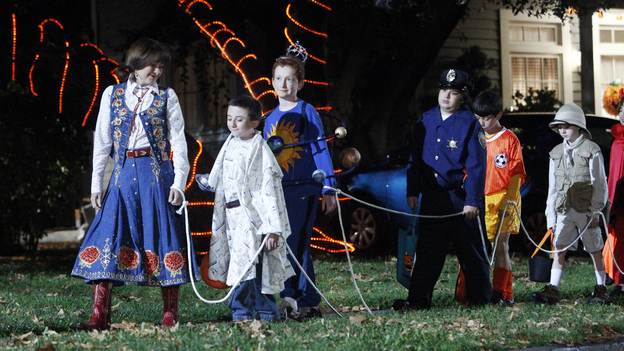 Frankie sets out trick-or-treating with Brick and his social skills group. It becomes a social experiment for Frankie. The kids don't listen, they have to stop to use a neighbor's washroom, one kid won't eat anything red, one kid needs to change to his backup socks, one kid thinks he's a cat, and then there's Brick: he whispers. The kids are blocking a walkway in the midst of this commotion, and Frankie apologizes to a woman who then makes a nasty remark about how she wouldn't let her kids get away with that crap. Frankie decides that since this is a social skills group, she needs to show them that they don't need to take comments like that. They chase down the woman so Frankie can explain to her that all the kids she's with have social problems and the appropriate response to "I'm sorry" is "That's okay.'The woman says, "I'm sorry." Frankie says, "That's okay."
Axl and his friends have set out to do evil, but then they come across a young girl in a Lady Gaga costume: Little Gaga. Someone has stolen her candy. Dressed as superheroes, Axl and his sidekicks set out to capture the villain. They succeed, return the candy, and leave with a final message: stay in school and eat your vegetables. They return to the house with the candy they scored in their one round of trick-or-treating. They decide they might as well eat it.
Mike and Sue finally arrive at her party. At first Mike won't unlock the door to the car, but he eventually lets her go. Just before she disappears into the vortex of teenagers, she grabs her pumpkin sweater and puts it over her shirt. Mike is relieved. "You know what? Guys are gonna love that!"