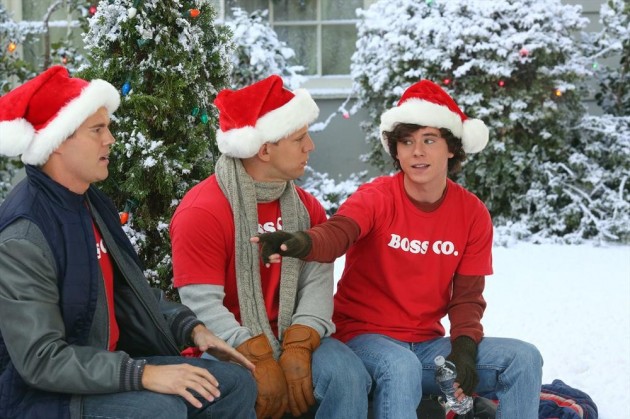 The holidays can be exhausting. Â We're all probably burnt out from decorating and shopping by this point, and it isn't even close enough to Christmas yet to bake cookies! Â The Middle captured this feeling perfectly last night with Frankie boycotting her usual crazy preparations. Â Naturally, the rest of the Hecks didn't know how to feel about her sudden carefree attitude.
While Sue was deeply concerned about their mom's new stance on Christmas, Axl and Brick were otherwise preoccupied. Â Axl, Sean, and Darrin reunite their Boss Co brand to make some extra cash by setting up neighbors' outdoor lights and decorations. Â Things quickly take a turn for the worse in this group of best friends over a seemingly silly debate about how to classify King Moonracer. Â (You know, the winged lion from the Island of Misfit Toys in the Rudolph special.) Â Axl has always assumed King Moonracer was the leader of the toys, while Sean obviously sees him as just another toy. Â In the end, Darrin watches the Christmas classic to settle the disagreement once and for all. Â As random as this storyline was, it was entertaining to see Axl get so passionate and stubborn when he's usually so passive on everything.
Brick takes it upon himself to write up the Hecks' Christmas letter to send out to all their family and friends. Â He's fascinated that such a thing exists after receiving one from the family of a friend Mike used to know. Â It's funny to see the topics Brick chooses to write about in their own letter, including Frankie going pantsless and Axl "dropping the ball" on his college football career. Â Brick also adds that his mom and dad "worry about Sue doing something with Darrin called 'losing it.'" Â Woah! Â Until now, I didn't think Sue was ready for that next step, but I'm curious to see if they address it in the second half of the season.
Mike had spent much of this episode running around from store to store for an artificial tree. Â Last year it was discovered that Sue was allergic to their real tree. Â I thought the Hecks were more on my level of bargain hunting, and in that case they should've bought a clearance tree at the end of that Christmas season rather than wait until this year. Â Ah, well. Â Mike finds that you get what you pay for, as he gets so frustrated with incomplete and/or pink trees in mislabeled boxes.
In the end, the Hecks have their traditional Christmas. Â Sure, it was at the very last minute that Frankie scrambled to pull out all the decorations but it was for a touching reason. Â Mike opened up to her that he actually always enjoyed Christmas ever since met her because once his mom died, his dad and brother never really went all out again. Â Little warm and fuzzy moments sprinkled in here and there are what makes this show so special.
I hope you all have as much fun with your own friends and families this holiday season!
Photo via ABC