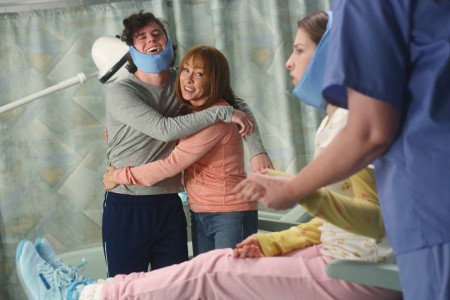 While her kids aren't pleased, Frankie is all too excited for Sue and Axl's minor dental surgeries on this week's episode of The Middle. Secondary to all that fun on the homefront, Mike and Rusty almost lose their diaper business over a silly miscommunication involving the return of Rusty's ex-wife.
Think 'Misery' only way scaled back on the horror aspect because after all, Frankie isn't violent nor does she have any ill intentions for her kids. She's simply a mother who is eager to spend her eldest son and only daughter's spring break as a family again. To be honest, I never saw the movie but I only know it by the reference made to it on Happy Endings a few years ago when Max was "miserying" Penny to keep her from getting a cast off. Same situation there, just a sitcom character taking advantage of another's misfortune.
Frankie really only wants to hear some dirt from Axl while he's still loopy from the sedation. She couldn't ask him normally if he's seeing anyone nor would she ever expect a hug from him. Brick caught the sweetest Axl and Sue moment on video in the car on the ride home from the dentist office, but of course later when they see the video Axl immediately deletes it. Too late though because Sue can't delete that memory from her mind and she pushes him to admit he loves his family. The Hecks aren't a mushy family so I never want them to start telling each other they love each other all the time, but small things like Axl giving Sue a fork at dinner are symbolic of that love.
Brick is the typical third child, never being taken seriously no matter how much he tries to assert himself as the new boss around here. It goes to follow then that Axl and Sue completely disregard his wishes and go about their normal lives, even if it means taking Brick's new shower towel and leaving him the lawn chair at the dining room table. I feel so bad for him because while I've never been that desperate to call dibs on a towel, I can relate to the overall stresses of having older siblings return home after you've been an only child for some time.
Mike and Rusty fear they might be losing their diaper company to Marlene, Rusty's ex-wife who claims to have come up with the product idea. Norm MacDonald is always the best when he's riffing on his own, but I have to say Rusty's idea of human hand massagers is disgusting. Way too much detail about his buddy at the morgue who can get him a bucket of hands! I know Mike would never go for that but luckily he pays attention when necessary and got Marlene off their case. He lost $37 in the process when he heard her initial idea was for adults such as herself should wear diapers to sporting events, but at least their diaper business was all Rusty's imagination. No lawyers needed to sort that out, though it was funny watching the vibes Marlene's lawyer was giving Mike. Frankie even encouraged him to go along with it if it meant defending all the work he's put into the company!
What did you think of "The Wisdom Teeth"?
The Middle Season 7 Episode 17 Review: "The Wisdom Teeth"
Summary
Much to their mother's delight, Axl and Sue spend their spring break recovering from wisdom teeth surgery.