Today I had the opportunity to attend three fantastic panels at Comic-Con; below are a few details about each.
The Middleman Cast Reunion & Table Read
For those of you who missed out on the very entertaining series The Middleman when it aired on ABC Family last year, I highly recommend that you order or rent the DVD as soon as possible.
Chock full of rapid-fire, hysterical pop culture references delivered by a refreshing cast of very talented yet relatively unknown actors, this series was canceled far too prematurely. The Middleman has a fantastic spirit and style, reminiscent of Pushing Daisies…but with more camp and obscure references.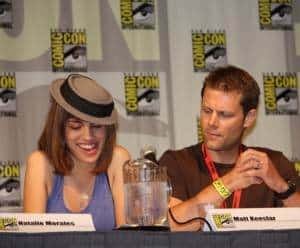 Today, the entire cast was on hand to read through the series finale, which was never produced due to cancellation. Showrunner/writer Javier Grillo-Marxuach, who is now writing for the new NBC series Day One, jumped right in and kept his team on pace to read through the entire script in the allotted time.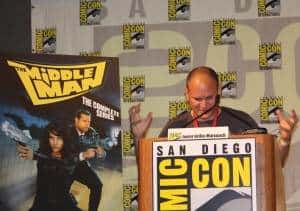 It was one of the most enjoyable panels I've ever attended; the laughs were non stop and the audience was very appreciative of this unique experience.
Entertainment Weekly's Wonder Women – Female Power Icons in Pop Culture
I was very excited to then attend this panel, and not just because I am obviously a huge fan of Lost. It featured actresses Sigourney Weaver, Eliza Dushku, Zoe Saldana and Elizabeth Mitchell. Weaver is certainly the acting veteran of the group, and spoke about issues of age in Hollywood. For the record, she mentioned that she is about to turn 60 and my jaw dropped – the woman looks amazing in person.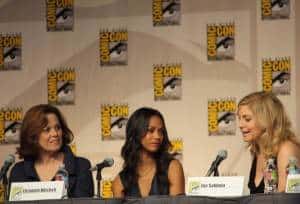 Both Weaver and Saldana star in the new James Cameron film, Avatar. I have to say that after listening to Zoe Saldana speak so eloquently and intelligently about the history of women on film and television that I will now tune in to anything she appears in. I was very impressed by her words and presence.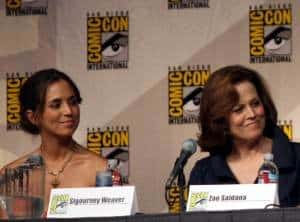 Eliza Dushku is really enjoying her role as Echo on Dollhouse, especially given the opportunity to play a different character every week. Stay tuned for more details about her and this series after I attend the Dollhouse panel tomorrow!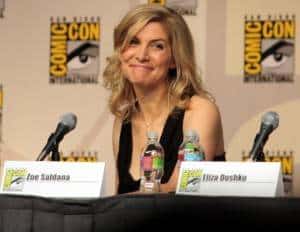 And then there is Elizabeth Mitchell. After a very dramatic season finale performance on Lost, Mitchell moved on to her new lead role on the ABC series V. I have seen the V pilot and absolutely loved it, by the way. Mitchell considers herself very lucky to have worked so consistently, and for shows as stellar as Lost and V.
There is a side story to this panel, as I was able to ask a question and of course directed it to Liz Mitchell. But I saved that tale and her reaction for my Lost site, which is now updated with the details!
Dexter
I have seen every episode of Dexter, as the series is on my Top 10 Favorite Shows of All Time list. This is the second year in a row that I've attended this panel, but the audience for this show (both at Comic-Con and around the world) has since exploded exponentially.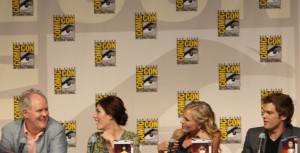 I am thrilled to see how well received Dexter has become, and was both entranced and intrigued by the Season 4 trailer that they premiered today.

The cast on hand included Michael C. Hall, Julie Benz, Jennifer Carpenter and new addition John Lithgow! After last season's amazing, Emmy-nominated performance by Jimmy Smits, I have very high expectations for the one and only Lithgow, who managed to make fun of himself in both 3Rd Rock From the Sun and The World According to Garp! I am not a fan of spoilers, so I won't divulge Lithgow's role on Dexter…but it looks quite juicy and compelling.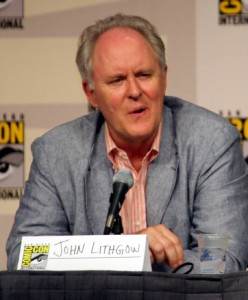 Keep your eyes open for Dexter webisodes in the near future, as well as a game for your iPhone/iTouch!
Look for more Comic-Con coverage here after I attend the FlashForward, Bones, Dollhouse, Lost, V, Fringe and True Blood panels in the next two days…if I survive the lines and crowds. :)