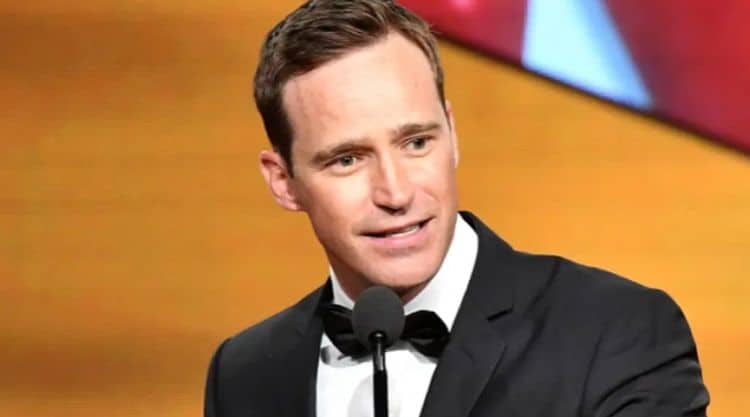 When Alex Trebek lost his battle with cancer, the world mourned. We aren't done mourning. He's been a fixture in our lives for as long as we can all remember, and he is one of the most beloved television hosts of all time. Hosting "Jeopardy," for as long as most of us can remember is his legacy, and it's a good one. Upon his passing, we knew that someone would have to take over the role of host, but we didn't know who. Who could possibly fill such big shoes? No one, of course, but the show is introducing a stream of guest hosts that will take on the role for the time being. The most recent guest host is seasoned host Mike Richards, and fans want to know more about the man who will fill in for Trebek for the next few weeks.
1. He's in His 40s
Mike Richards was born on July 5, 1975. His full name is Michael, and he was born and raised in California. He's from Burbank, and that means he spent a lot of his childhood growing up around television studios and the stars.
2. He's A Host
He's spent his entire adult life hosting. He was a reality television host for "Beauty and the Geek," and he's been on many other. He was also an executive producer for "The Price is Right," and he was even a candidate for the host of the show before it was given to Drew Carey. He knows what he is doing, and we feel he will bring his best to the "Jeopardy," set.
3. He's a Fan Favorite
He's not the first guest host to take over since Alex Trebek's final episode aired, but he is a fan favorite. He's set to host until the beginning of March, and many fans have gone as far as to say they hope he can stay around longer because he's doing such a good job.
4. Fans Want Him Full Time
What's amazing is that the world would have guessed that no one could ever make an impact on the show the way that Trebek did. We would have imagined that we'd dislike anyone and everyone no matter how good they did at the job because they simply are not Alex Trebek. But, that is not the case. Fans want Richards on the show full time, and we are kind of here for it.
5. He Was Not Prepared
He did not have much time to prepare for this new role – whether it's short or long-lasting. He knew three days prior to his first filming that he would be doing it, and it was a bit of a scramble. He didn't have time to prepare, he didn't have time to focus on anything but figuring out what he was doing. Perhaps not having the time to overthink things was what worked for him.
6. He Only Owns One Suit
Well, not any longer. He had to go out and get some more when he got this hosting gig because all he had was one. If that doesn't really make him the most relatable man ever, we don't know what does. Most only own one they wear time and time again while we women own 67 gowns and still need more.
7. He Fondly Remembers Meeting Alex Trebek
He was nervous, and not because Trebek is one of the most famous men in the world. He was nervous because he knew how smart he was, and that was intimidating. In fact, we feel that we would have all felt the same way if we'd had the chance to meet someone like Trebek.
8. He Remembers Trebek as Humble
As a producer on "Jeopardy," he got to know Trebek very well. He did not like to hear compliments because he was so humble. However, the last few days of filming with him – while they did not know that they would be the last – Richards could see that Trebek was not at his best. He was not feeling well, but he would put on his suit, head onstage, and he would instantly lose decades of his life and become younger, more vibrant, and his very best self. He made the choice to issue a compliment telling Trebek that watching him on one of his final days was one of the most amazing things that he's ever seen, and Trebek said "Thank you," which was a huge moment.
9. He's Close to Trebek's Late Wife
Her name is Jean, and Richards says that when he's there for her during this difficult time, she somehow finds a way to be there for him ten times over. And, it's not just him; she's there for everyone that was part of her life and her husband's life all those years, and he calls her an incredible woman.
10. He's Private
Richards isn't big on sharing his own personal life. He does what he has to do, and he does it well, but he is also good about sharing his professional life with the world more than anything else. He values his privacy.