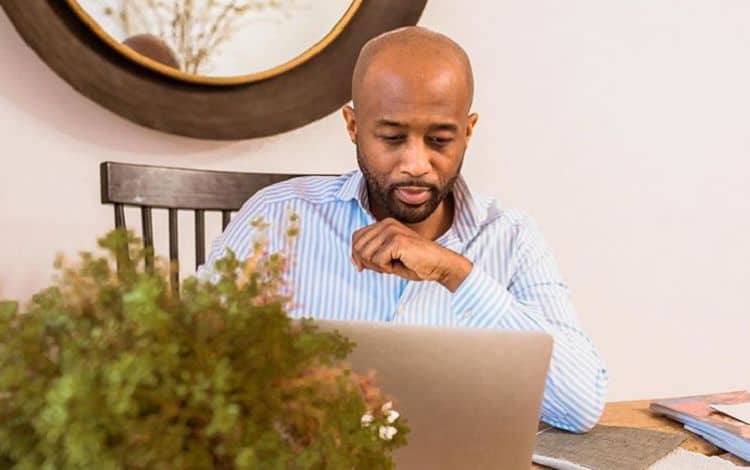 Mikel Welch has spent most of his career behind the scenes, and he's totally fine with that. The talented set and interior designer has set the stage for some of your favorite shows.  He worked on the set of the Steve Harvey, the day time talk show as well as HGTV's popular show, Trading Spaces. Welch is now back on TV as a cast member on the Quibi series, Murder House Flip which will focus on making renovations to homes where crimes have been committed.  With that being said, 2020 is already shaping up to be a big year for Welch. Here are 10 things you didn't know about Mikel Welch,
1. He Almost Didn't End Up Working For Steve Harvey
Mikel Welch got his big break by working with Steve Harvey. He credits Steve, and the opportunity he gave him, with changing his life. However, Welch almost walked away from the opportunity. In an interview, Welch said, "I moved to Chicago in 2012 to work for Steve Harvey, my first project was to do his office. He gave me seven days to get it done. When I showed Mr. Harvey the room, he was just blown away. Something came over me and I turned back to him and said: "God is telling me to tell you I don't want to work for you." And he turned around and said: "Young man, no one has ever talked to me like that, but because you had the courage to say that to me, I'm going to put you on television."
2. He Has A Degree In Marketing
Working in the design industry wasn't always a part of Mikel Welch's plan. In fact, when he went to college, he planned on working in a different field entirely. He got a degree in marketing and spent time working at Bloomingdales. One day during his break he stopped in a nearby Crate and Barrel and said he had an 'a-ha moment' that made him realize he had a love for design.
3. He Used To Be A Probation Officer
Mike Welch's current career couldn't be any further from where he was when he first finished college. His first job after completing college was working as a probation officer for the city of Atlanta. Needless to say, that didn't last long.
4.His Mom Encouraged Him To Find His Passion
Most parents would prefer their children to take a traditional path with the hope that it will lead to a secure and stable life. However, Mikel Welch's mom encouraged him to follow his passion instead of following a set path. He originally thought his passion was clothing, but quickly realized that he wasn't very good at selling clothes.
5. He Has His Own Interior Design Business
In addition to the individual projects he's worked on, Mikel is also a successful business man who runs his own interior design company called Mikel Welch Designs. His company is based in New York City. Mikel and his work have been featured on The Real Housewives of Atlanta as well as Good Morning America.
6. He Loves The City Of Chicago
When most people are looking fo their big break in the design industry, they think New York City is the place to be. However, for Mikel, that place was Chicago. When asked why he chose to move to begin his career in Chicago over New York, he said "I feel like Chicago affords you opportunities that New York doesn't do as quickly. I use Oprah as an example – Chicago is a city that will give you a chance. New York and LA, it's a lot tougher to get that shot, but it's just that people in the Midwest they're more embracing. They'll allow you a chance to prove yourself and for me, Chicago gave me my first big national exposure."
7. He Supports LGBT Causes
Mikel Welch came out as gay during his sophomore year in college. He has become an advocate for the LGBT community and believes in diverse representation. He feels that the media's portrayal of gay men –especially gay black men– can be very negative and hopes to be a positive example.
8. He Was Once On Food Stamps
The key to success is different in everyone's opinion. For Mikel Welch, the truth key to success is following your dreams. However, chasing your dreams isn't always easy and this is something Mikel knows first hand. When he Mikel first moved to New York city he was struggling and "living on food stamps". However, he refused to give up.
9. He Grew Up In A Conservative Household
Mikel grew up in a very conservative household where his father was a respected local minister. When he came out of the closet, his parents had a hard time accepting him. They even believed that his decision to go to an all male college influenced his sexuality. However, Welch says that his parents eventually came around.
10. He Used To Find Clients On Craigslist
When Mikel Welch was trying to make a name for himself, he had to get creative. His first method of getting clients was to put ads on Craigslist where he would volunteer to design people's homes for free as long as they agreed to pay for the furniture.