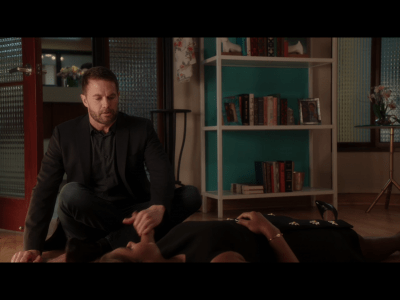 I see you, The Mindy Project. I respect Mindy pushing herself back into the dating world even if it includes a temporary backslide with Pastor Casey. She learned a very important lesson without wasting much time.
Now that Mindy's matured we're starting to see Casey through clear eyes again and it's not a pretty picture. He plays it off as his friends didn't like Mindy always trying to change him when the truth is she doesn't like him anymore. I don't think Casey himself has changed all that much, but his tattoos did get progressively worse: pizza rat, Vote for Pedro, and a giant back piece of a minion dressed like Shrek. He's still a lovable goofball and he seems to be in a good place career wise with his shoe line and new flagship store opening in the City. He's just not compatible with her own life. If she feels a constant urge to change him (or herself to impress his friends) that's not normal or healthy for anyone. Hopefully they'll stay friends at least.
Mindy already has a new crush on Casey's friend Marcus, not yet realizing how deep Jody's feelings are for her. Ashley has only been dating Jody for a short time and she even sees right through him. I do wish Ashley gave Morgan another shot because she seems like an interesting character and it would be a shame to never see her again. It's hard to tell where this whole unrequited crush on Mindy is headed but I feel like it can't stay a secret much longer. If Morgan knows, he's gonna blow his cover sooner or later. Jody's already stepped back twice now. First after Danny's totally uncalled for outburst and again when he finds himself friendzoned as Mindy confesses her feelings towards Marcus. I know we get extra long seasons on Hulu but dragging this particular storyline out much longer will only continue to stress me out.
I can't go without mentioning Jeremy's newfound obsession with Buchanan, an obviously horrible rip off of Hamilton that Marcus mistakenly invested in. He possibly hasn't even seen Hamilton all the way through because Mindy got them kicked out. Although I'm trying to remember, why didn't he go to Hamilton with Tamra and the college girls a few weeks ago? Anyway, this was a fun way to keep Jeremy involved without seeming desperate for love like he's unfortunately so prone to be.
What did you think of the episode? What do you hope to see happen with the whole Mindy/Jody situation?
The Mindy Project Season 4 Episode 19 Review: "Baby Got Backslide"
Summary
Mindy considers revisiting an old flame when Pastor Casey comes to town but she soon realizes the past is in the past for a reason.