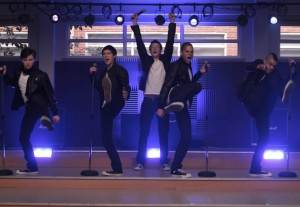 Whoo! A lot happened in this episode and my mini-recap seems to have turned into a full blown recap. Feel free to skim.
The Glee club has grown complacent. Ever since they found out their sectional competition consists of a school for the deaf and the Jane Adams academy for ex-juvenile offenders their level of enthusiasm for rehearsals has waned. On advice from Sue, Will decides they need some fear in their lives. He sets up a boy vs. girls mashup competition. The winner gets to perform the opening song for sectionals. Emma will be the special impartial guest judge. The girls (minus Rachel) are in favor of just winging it. The boys have the liability that is an exhausted Finn.
Sue spots Quinn falter slightly in a Cheerios pyramid. Rather than reveal her pregnancy, Quinn blames her weakness on time spent in Glee club. Sue decides she's going to bring down Glee once and for all by taking down Will. She meets with Terri and reveals the chemistry between Will and Emma. Sue, in her ultimate evilness, pushed the elderly school nurse down the stairs, leaving the position open for Terri. Terri gets the job, despite her lack of experience, since she comes cheap and knows how to use a defibrillator. Now she'll be around all the time to make sure her husband stays faithful. She's the only one that seems pleased by this. Ken shares Terri's fears that there's something between Emma and Will and they agree to combine forces. Terri slips Coach two pseudoephedrine and insists he propose to Emma immediately. Emma asks Will if she has other options than marrying Ken, and Terri overhears. Terri confronts Emma and basically tears her fragile psyche to pieces; you know, what Terri does best. Emma agrees to marry Ken if she can keep her last name, live in her own hous, only see each other at school, and not tell anyone. Well, I guess that kind of counts as an engagement.
Finn's looking horrible. He's pale and distracted during rehearsals and football practice, and seems like he hasn't slept for a week. He's torn between his relationship with Quinn and his attraction to Rachel. He's torn between all his obligations and feeling overwhelmed. He's torn between doing his homework and playing Halo. Giving up homework didn't help, so something has to give. He visits Terri in the nurse's office, where she provides him with pseudoephedrinewhich, last time I checked, is the key ingredient in meth. Finn returns to the boys' Glee rehearsal hopping like the Energizer bunny. He even brought back enough to share with the class, and they manically blow the girls away with their mashup.
Rachel notices that Quinn's missing Glee rehearsals, and meets her in the hallway. She offers the friendship of the Glee club in a time when Quinn will become more of an outsider the larger she gets. Rachel shows great depth of character by offering help to the girl who terrorized her for years. Quinn joins them for the girls' number. Kurt turns double agent for the girls and reveals the boys' secret medicinal weapon. The girls (minus Quinn who gets folic acid) get their own distribution of meds from Terri to try to keep up. Rachel on uppers…wow. The girls step it up with their mashup as well. Quinn realizes she's happy with her life and isn't ready to raise a baby. She offers to give Terri the baby, but asks for money for doctor bills and maternity clothes. Terri refuses, which I think might leave some wiggle room in this deal.
The principal finds out about Terri's drug pushing and fires her. Since Will wasn't able to see what was going on right under his nose and pushed the kids to compete, the principal insists on bringing in a co-chair for Glee. In walks Sue. Yeah, that'll help with the high-pressure competitive environment that drove them to drugs.
Your Music for the Evening
The Boys meth fuled mashup of "It's My Life" and "Confessions" where Finn and Artie nail some high energy solos.
The girls manic but delightful "Halo" and "Walking on Sunshine" mashup, featuring Rachel and Mercedes