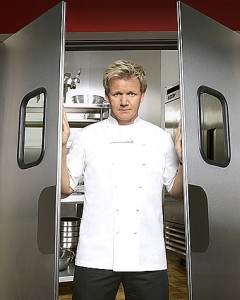 Tensions are running high — well, even more than usual — after elimination as Suzanne realizes just how close of a bullet she missed. Dave is furious with Tennille for throwing Van under the bus. Kevin feels like he's sitting pretty and is rather smug about it.
For the first true individual challenge, the task is to create a dish that is almost purely about looks alone. There is a team of nine editorial staffers from Bon Appetit that will choose the two best looking dishes. Only those two dishes will be tasted and a winner then chosen. Kevin and Ariel bring the beauty and they get the taste test. But the judges can't choose between them so they both win. Their recipes will be featured in an issue of Bon Appetit and they are whisked away for a photo shoot and champagne with Chef Ramsey and Editor-in-chief of the foodie magazine, Barbara Fairchild.
The losing chefs get to dress up like prisoners and clean a highway. Shockingly, Suzanne is the least whiny about this. Not surprising: Dave injures the hand again.
At dinner service Kevin ramps up the arrogance and bosses everyone around. Too bad he can't walk the walk because during prep he overcooked the risotto rice and this has now ground the kitchen to a halt. Also dragging them down is Ariel's raw chicken, Suzanne's raw fish and an order of lamb so raggedy, Chef drags Ariel out to the dining room so the diners can enjoy her humiliation.
Despite their best efforts they still finish service and the team chooses Ariel and Suzanne as the worst of the worst. Her time finally being up, and just as I stop despising her, Suzanne gets sent home. Come back tomorrow to read my full recap of this episode, and see where I think the final five broke Chef Ramsey's brain.