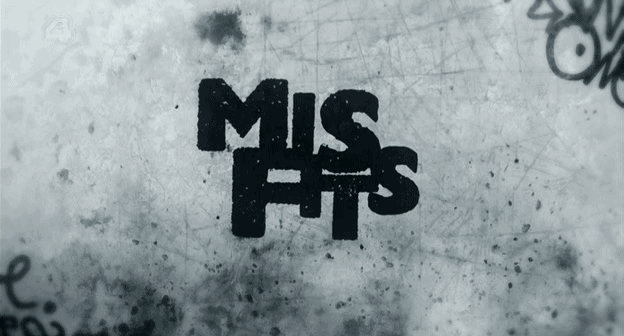 If you could have a super power, what would it be?
Age old question, right? Anyone who has ever been bored or a lover of hypothetical questions has pondered this at least once in their lives. I mean, how cool would it be to go from a normal, average Joe (or in my case, an average Shilo) to being someone special, someone who saves people on a regular basis and gains a real purpose in life?
In Misfits, it's not quite that easy. The BAFTA award winning drama, now in its second season on E4, tells the story of five juvenile delinquents (Nathan, Simon, Alisha, Curtis, and Kelly — a sort of urban Breakfast Club, so to speak) who gain super powers after an intense storm during their first day on the job. Silly premise, right? While one would expect cartoon-y action and enough spandex to make even Cher wince, that's not exactly the story Misfits is trying to tell. Instead of piling on the clichĂ©s, we get unusual powers (Alisha cannot be touched by a man without him wanting to bed her), fully formed villains (a tattooist whose tattoos change the recipient's personality, a homicidal man convinced he's in a video game, etc.), and enough foul mouthed tirades (Nathan's loose tongue is quite astonishing in the best possible way) and subtle relationship dynamic shifts (there is one couple formed during season one and one that is more hinted at) to keep things grounded.
At its best, Misfits focuses on the human aspect of being superhuman, which really works if you consider how young these characters are (late teens/early 20s) and how much your struggle for identity would be impacted by something as life changing as super powers. You get to see Simon turn invisible, Curtis time travel, Kelly read minds, and Nathan be immortal, but you also get to see Simon coming out of his shell, Curtis losing a girlfriend while saving someone's life, Kelly battling feelings for Nathan, and Nathan coming to terms with a messed up family situation. While some of the characters aren't as fleshed out as others (Curtis could stand for a bigger presence on the show), you care about every single one of them and sympathize with where they've been, where they are, and where they're going.
Misfits is barreling toward what is sure to be an awesome season finale and it couldn't be making me any sadder. While there may be a beaucoup of good television on American networks these days, there's just something about this ragtag group that you can't help but be enthralled by. The writing balances emotion with edge and intellect with idiocy to create this fully realized world of redemption, survival, and transformation. They're only scratching the surface of what they can do with the show (there have been major monkeywrenches thrown into the show this year to wonderful results), so I look forward to seeing how long the show goes and just how super Nathan, Kelly, Simon, Curtis, and Alisha can really be.
Oh, and by the way, if I could have a super power, it would be mind reading.