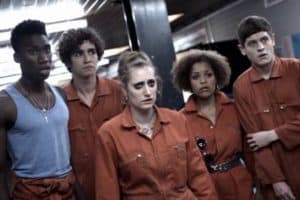 BAFTA-winning sci-fi drama Misfits will be making its stateside television debut this summer. Beginning Thursday, July 19th at 10:00, Logo will be airing the six-episode first season where a group of probationers are given supernatural powers during an electrical storm. Presumably, should the first season do well for Logo, seasons two, three, and as-yet-unaired four will be making their debuts as well.
The move makes sense for Logo. Misfits isn't the first British import that they've acquired the rights to, having aired the likes of Beautiful People and Absolutely Fabulous, and with the channel's focus going away from LGBT-themed programming, it's not the worst bridge between the old Logo and new Logo. Logo executive Marc Leonard called the program "the perfect series for our Logo viewers who will appreciate how the show's underdogs rise up, take center stage and start blurring the lines of morality, sexuality, gender and reality itself", as there are touches of topics that Logo prided itself on showcasing only presented in an entirely different way.
Although I'm still a little disappointed that Logo is backing away from its original content focus, having an even wider net of people become exposed to the gleeful vulgarity, unexpected comedy, and truly exciting adventures of Misfits is enough of a consolation prize. Misfits has already been available to American viewers through Hulu airing its first three seasons on a one episode a week basis, with an American remake having been in the works for quite some time. However, there's still so many people that don't know about Kelly, Curtis, Alisha, Simon, and Nathan that a move to Logo could be extremely helpful in terms of visibility and awareness for the show.
The program returns for its fourth series this fall, its second consecutive following a major casting shake-up.
Will you be checking out Misfits on Logo? Which British series should make its American debut next? How do you think an American remake of the show would turn out?