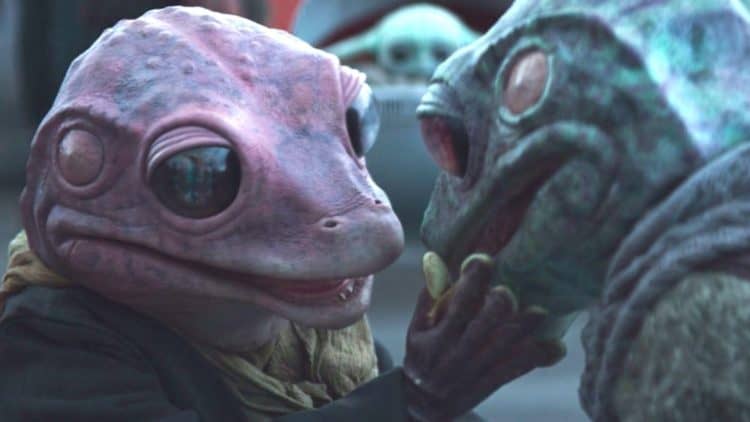 You may not have seen Misty Rosas' face, but you've probably seen her work. Misty was a part of one of the most popular TV shows of 2019, The Mandalorian in which she played the frog lady. Although her face was covered the entire time, her talent continued to shine through and Misty still managed to see the show. Misty has been working in the entertainment industry for more than 25 years, and she has been a part of a variety of different projects, however, playing the Frog Lady might have been her biggest role yet. Hopefully the success of The Mandalorian will lead to other major opportunities for her in the future. Keep reading for 10 things you didn't know about Misty Rosas.
1. She's A California Native
Misty was born and raised Mission Viejo, CA. During her childhood, she spent a lot of time outdoors and developed lots of love for nature. Her hometown is located just about an hour outside of Los Angeles which meant that she didn't have to go travel too far to make her way into the entertainment industry.
2. She Got Into Acting When She Was A Kid
From an early age, Misty knew that she loved performing. Whether it be acting, singing, or dancing, she simply enjoys keeping people entertained. She did her first theater performance when she was just 6-years-old and it was clear that she had lots of talent. She made her first on screen appearance in 1995.
3. She Got Her First Professional Role At Disney Land
Being cast in The Mandalorian was almost a full circle experience for Misty. Her very first professional acting job was actually working as a character at Disney Land, so it was probably a pretty cool feeling to get the chance to work with Disney again after so many years.
4. She Has A Hearing Impairment
According to her website, Misty "was born with 65% hearing loss in her right ear and a 45% loss in her left." Due to her hearing impairment, many people doubted her chances at being successful in life. Not only did Misty prove all of her doubters wrong, but in addition to acting she's also a talented musician who has already released one album.
5. She Teaches Yoga
Misty has always loved to stay active, and teaching and practicing yoga are her favorite ways to do that. Not only is yoga a good way for her to exercise her body, but it's also a good way for her to exercise her mind and help spread peace and positivity to others.
6. She Is A Big Air Supply Fan
As a musician, it's only right that Misty also be a fan of other artists. She has been a huge Air Supply fan for most of her life, and in 2017 and she got the chance to not only meet the duo, but share her music with them as well. Air Supply was such a fan of Misty's sound that they invited her to go on tour with them.
7. She Loves Interacting With Fans On Social Media
Social media has become a very powerful tool, especially for people in Misty's line of work. The importance of these platforms isn't lost on her, and Misty loves using Twitter and Instagram to connect with her fans. It's very common to see her retweeting and responding to posts from fans on Twitter.
8. She Loves Giving Back To Others
Misty is passionate about helping those around her. She has worked with her friend's non profit organization, All You Need Is Love, for over a decade. According to the organization's website, "All You Need Is Love is a charitable organization that focuses on the many thousands of children that exist in and around the Thai-Burma border in Mae Sot, Thailand. By introducing you to their lives, their hopes and their dreams, we hope that we can show how the power of the positive works in extreme circumstances. "
9. She's A Cat Person
As the debate between dog and cat people continues to wage on, #teamcat will be happy to know that there's yet another actor they can add to their team. While Misty appears to be someone who loves all animals, it's clear that cats have a special place in her heart. She has an adorable cat named Charlotte who makes frequent appearances on her Instagram.
10. She Was The Voice Of Sid The Science Kid
Depending on how old you are, you may remember the animated children's series, Sid the Science Kid which aired on PBS from 2008 to 2013. Misty voiced the character for the entirety of the show. She also reprised the role for the 2013 film, Sid the Science Kid: The Movie.