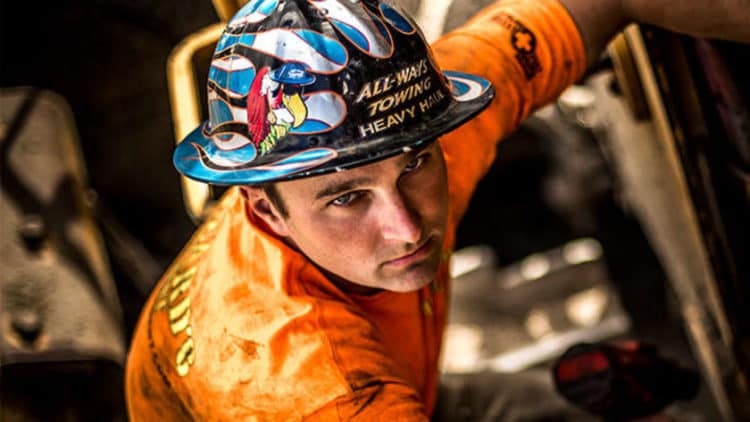 Mitch Blaschke is an American TV actor who stars in the show, "Gold Rush." He was born on December 4th, 1989, in Eagle Creek, Oregon. From a very early age, he loved working as a mechanic, something he would later pursue full time after his studies. Years before joining Hoffman's crew, the two met in a local towing business in the town. The 33-year-old Oregon native has battled with the toughest of jobs in the mechanic industry. He is also an entrepreneur since he owns an equipment sales store in the United States. It is also notable that Mitch has a high tolerance to pain, evidenced by the injuries that come with the job. He has become a beloved actor and the show "Gold Rush" is currently the most-watched in Canada. Check out these facts about Mitch Blaschke to help you learn more about him.
1. He is an actor
According to Wikicelebinfo, he joined the crew as a mechanic in season 3 of "Gold Rush" when they bought a piece of equipment from him. He helped them carry the machine then he realized that the crew was in dire need of a full-time mechanic. Even though it took some convincing, he later agreed to hop aboard and give a hand. "Gold Rush" airs every Friday at 9 pm EST and is currently in the tenth season. The show focuses on gold mining in the Yukon territories of Canada done by the Hoffman crew and airs on the discovery channel.
2. He is a mechanic
According to Distractify, Mitch Blaschke is a self-taught mechanic. He sprung into the trade at the age of fourteen. Initially, he worked to fund his kart racing career at a collision repair shop every day after school. He then became a full-time mechanic after completing his high school at Sam Barlow High School. He is currently the mechanic of the Hoffman crew and fixes all the equipment that they use during the mining process. His quick problem-solving skills and familiarity with equipment in the field has become invaluable to the team. Mitch has consequently solidified his position in the squad as well as improved the efficiency of the crew.
3. His zodiac
Being born on December 4th makes Mitch a Sagittarius. People born under this sign are known to be very flexible and adaptable depending on the conditions. His personality gives him the ability to cope with the fact that he is a mechanic and still be able to act. Sagittarians are born to explore, and they must get the space and time they need to roam, which is well provided by his occupation.
4. His popularity
Mitch ranks among the most famous people. Since his arrival in "Gold Rush," viewers and fans have gradually rocketed to reach historically new heights. Still, his conduct and ability to continuously impress his fans over and over again never ends.
5. His love life
For several years, Mitch dated his long-time friend Hailey who he had known for over seven years. On July 23rd, 2016, the two pledged their vows to each other and got married. He now seems to be enjoying everything that comes with such a happy marriage. Just recently, Mitch took to Facebook to post a picture of their anniversary captioning that it felt so good to marry his better half. Mitch now resides with his wife in sandy town in Oregon State near Portland. His wife Halsey is also an actor and has featured in three episodes of "Gold Rush" since 2016 to date.
6. He is a motor lover
According to Fandom, Mitch likes to ride anything with a motor when he is not working. His passion extends to riding motorbikes, quads, dirt-bikes, and even snowmobiles. However, his love for the motors has not been without accidents. Mitch once broke his arm when jet boating and almost dropped out of the series for the rest of the season.
7. His net worth
Mitch reportedly earns $100,000 per season, which makes an average of $25,000 per episode from the series "Gold Rush." The net worth excludes any hauls that he pulls with his team during each gold-digging season. Mitch currently has an estimated net worth of $200,000, earning most of his wealth from the mining and being a TV show cast.
8. His Social Media
Mitch Blaschke commands a large number of followers on all his social media platforms. He has more than 17,000 followers on twitter and over 20,000 followers on Instagram. Mitch also knows how to keep his followers interested and well informed through frequent posts. His posts prove to be thrilling to his fans since he keeps them updated with live pictures of the mining process and day to day results, for those who love a scoop of his personal life, Mitch does not disappoint.
9. He is confident and persistent
As a child, Mitch worked and went to school to cater to his hobby. When Todd Herman approached him, Mitch first hesitated. He knew that the kind of job he was being called upon to do was way too hard and demanding. After careful thought, he realized that no matter how hard it was, he had to learn to make more from the smallest of opportunities. He is now a highly respected mechanic besides being a member of the mining crew.
10. He has a newborn baby
Mitch and his wife were blessed with a beautiful baby girl in October this year. Blaschke's love for his baby is undeniable. Even before his wife gave birth, he never stopped to treat his wife like a queen, and frequently posting her on social media with praises, promises, and assurances of love to her unborn daughter. When Mitch's daughter was born this October, his social media accounts flooded with posts of joy. The one-month-old is undoubtedly lucky to have a caring father like Mitch.