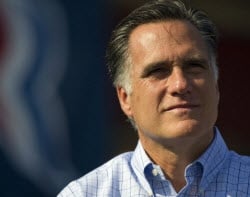 Some have accused Mitt Romney of being less than substantive in many of his pitches on the campaign trailer, but really? He can't write his own catchphrase?
Recently Romney has been taking for himself one of the best lines from TV history, Coach Taylor's "Clear Eyes, Full Hearts, Can't Lose" mantra from Friday Night Lights. Here Romney is on the campaign trail in Virginia:
"Clear eyes, full heart, can't lose," Romney said Tuesday in Iowa as he recalled a young teenager facing certain death from cancer. "This is something that we share in this country, men and women of clear eyes and full hearts and America can't lose."
He actually left out his own campaign slogan, "Believe in America." What can I say? Coach Taylor has a better soundbite. And the truth is, the vast majority of Americans will just think its catchy and inspirational, rather than the recognizing that he stole it from a TV show.
What do you think? Is it totally cool for Romney to take the catchphrase? Or does it make him seem even more inauthentic and creatively bankrupt than he already does?