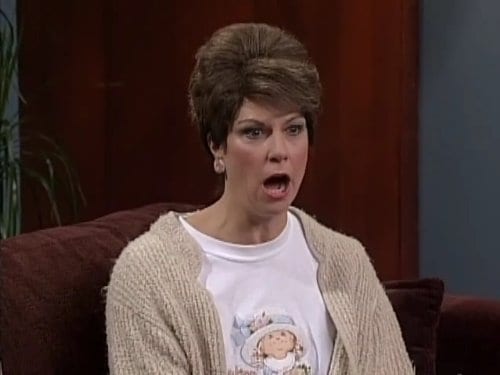 It would seem that there are times when actors kind of settle into the middle of the pack when it comes to fame and fortune. Mo Collins is kind of what you would call a successful but not megastar kind of person since she's been very effective in a lot of things she's done but still hasn't quite broken out of the mold she created for herself when she got into show business in the first place. There's nothing wrong with it, in fact being in the middle of the pack is kind of a secure spot since it means people will hire you even if you're not always the first choice. So long as the work is steady it provides a good position from which to feel comfortable and to enjoy what you do. Some folks like to aspire to even greater heights and some have the ill fortune of losing everything, those in the middle tend to do just fine since they don't want too much and are smart about not letting the bottom drop out.
Here are a few things you might not have known about her.
10. She's been a stage actor.
It would be kind of interesting to discover just which celebrities had the full intention of going forward with a career after the stage or if they were content to step out in front of people in any venue and become famous. It's just a curiosity to be honest.
9. She's been featured on MADtv.
MADtv was one of the more notable shows when it first came out and then it kind of became just another sketch comedy show that was able to continue as the years went on. It's insanely funny but one kind of has to get the jokes in order to really laugh. Mo joined in the 4th season and decided to leave after the 9th.
8. She was diagnosed with a rare form of cancer.
It's called gastrointestinal stromal tumor and she happened to notice a lump in her abdomen shortly before she was diagnosed. She's been in remission for a while but it's nothing to mess around with. You can be sure that she's doing what she can to stay informed and stay on top of it.
7. Her career started in 1996.
It's a wonder what people that started in the 90s are thinking about TV and movies at this point since a lot has changed, including the reaction of the audience and what they're willing to sit through. Obviously they've done their best to change with it, which is why so many people still think they're worth following.
6. She appears in a couple of Judd Apatow movies.
She had small roles in both Knocked Up and The 40-Year Old Virgin but they're kind of there and gone types of appearances that don't show enough to really point them out unless you happen to be watching the movie.
5. She's done a few voice roles.
As a comedian this seems like it might come easy enough for her since speaking in different voices is both another method of acting and could lend itself to new material that comedians might use for their act if they're allowed.
4. She's pretty skilled at doing celebrity impressions.
Any comedian kind of needs to be able to do at least one or two good impressions of other people these days in order to really make their act work. Those that don't do impressions rely on different methods but those that do tend to be very good at imitating others as they practice endlessly to get it right.
3. She's kind of a tall woman.
So yes this is kind of an odd thing to notice but when the average height of a woman is billed at 5'4″, adding on another five inches to reach her 5'9″ does tend to make her quite a bit taller. If she wears heels she's no doubt close to six feet tall if she's not over, so she's kind of tall compared to the average.
2. Her net worth is about $600 thousand.
This is part of what might be said to make her a middle of the road celebrity since a lot of big-time celebrities are easily worth millions if not tens to hundreds of millions. Even more ridiculous are those that are worth billions since they contribute something to others and have enough cash flow and holdings that make them worth an insane amount of money. Middle of the road seems just fine and it works without a doubt.
1. She's very open about her personal life.
It would seem that Mo has nothing to hide as she's been very open about who she is, what she does, and her life in general. Quite honestly those that decide not to divulge anything about their private life are more than welcome to keep it to themselves, and those that want to share their life with others have the same right.
She's definitely comfortable with who she is.