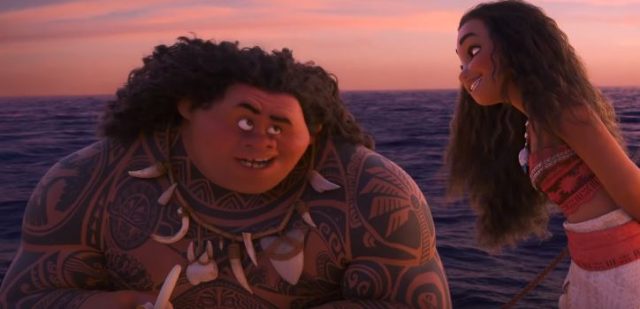 A brand new, full-length trailer for Walt Disney Animation Studios' upcoming film Moana debuted online on Thursday, and it gives everyone who's excited about this new movie (and why wouldn't you be?) a few more details on what its main story will be. Moana centers on the titular heroine (Auli'i Cravalho) as she goes on a journey to find the demi-god, Maui (Dwayne Johnson), and it appears that the two of them must work together in order to save their people. The movie offers some breathtaking animation (just look at that water!) and also features music from Hamilton creator and star, Lin-Manuel Miranda.
For more information on Moana, here's Disney's official description of the movie:
Three thousand years ago, the greatest sailors in the world voyaged across the vast Pacific, discovering the many islands of Oceania. But then, for a millennium, their voyages stopped — and no one knows why.

From Walt Disney Animation Studios comes "Moana," a sweeping, CG-animated feature film about an adventurous teenager who sails out on a daring mission to save her people. During her journey, Moana (voice of Auli'i Cravalho) meets the once-mighty demigod Maui (voice of Dwayne Johnson), who guides her in her quest to become a master wayfinder. Together, they sail across the open ocean on an action-packed voyage, encountering enormous monsters and impossible odds, and along the way, Moana fulfills the ancient quest of her ancestors and discovers the one thing she's always sought: her own identity. Directed by the renowned filmmaking team of Ron Clements and John Musker ("The Little Mermaid," "Aladdin," "The Princess & the Frog") and produced by Osnat Shurer ("Lifted," "One Man Band"), "Moana" sails into U.S. theaters on Nov. 23, 2016.
Moana arrives in theaters on Nov. 23, right before Thanksgiving. Check out the new trailer for the animated film below:
[Photo via YouTube]