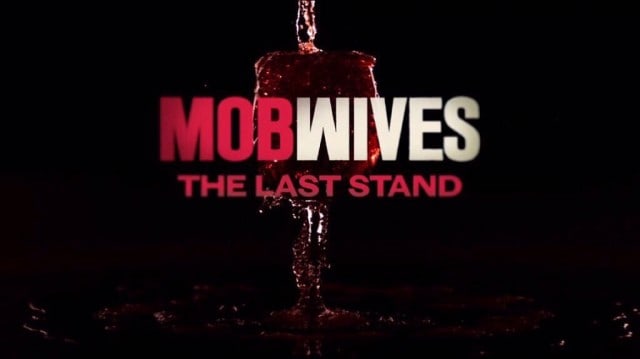 Mob Wives is underway and it's getting uglier by the minute. No wonder this episode is called "The Last Stand." Someone is clearly going down and judging by all the action it almost feels like it's everyone! Can we first talk about the quote of the episode? Drita absolutely brings it when she says, "You had Jewelry like Mr. T when I met you!" What else is going on? Ms> Gravano is not having it when a certain someone trying to come over acting all crazy.
So what other big points do we have tonight?
1. Couples therapy is clearly teaching the ladies absolutely nothing.
2. Carla is in one CRAZY mood tonight!
3. Someone is hoping that Drita gets violent
4. Do you think that Drita owes Carla a sit down?
Oh and the award for the best physical moment of the show? Big Ang is saying "Let's Party!" This GIF sums it up nicely.
Let's partayyy! #MobWives pic.twitter.com/UmmEjODcNU

— Mob Wives (@MobWives) January 28, 2016
Here are some of the other beautiful moments but in visual form right from Mob Wives' Twitter page.
.@biggangVH1 had it goin on! 😂 #MobWives pic.twitter.com/dIx9i2z2RJ

— Mob Wives (@MobWives) January 28, 2016
.@KarenGravanoVH1 ain't got time for that. #MobWivs pic.twitter.com/hEMbXMC34K

— Mob Wives (@MobWives) January 28, 2016
Did we learn nothing in @couplestherapy! #MobWives pic.twitter.com/mi2dqBpFSo

— Mob Wives (@MobWives) January 28, 2016
Oh Ang… #MobWives pic.twitter.com/esmfR9pyPp

— Mob Wives (@MobWives) January 28, 2016
Our 👏 new 👏 motto 👏! pic.twitter.com/u5qegHLaiN

— Mob Wives (@MobWives) January 28, 2016
Carla's feeling some type of way tonight… #MobWives pic.twitter.com/hkssTa7svy

— Mob Wives (@MobWives) January 28, 2016
Probably. #MobWives pic.twitter.com/ka9YwiltJn

— Mob Wives (@MobWives) January 28, 2016