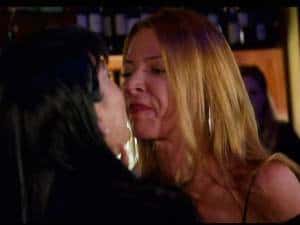 Though Mob Wives has an ensemble of four women with connections to organized crime, this week's episode was a pretty concentrated affair that shone the spotlight on the unsteady relationship between Drita and Renee and the effects that it had on the dynamics of the foursome. The tension may have finally been erased with a few genuine apologies and some Crazy Mamas at a local restaurant, but this is reality television and you know the drama isn't going away that easily. Just how long will the truce between Drita and Renee last?
I'd personally give it 2-3 episodes before it gets going again, especially since the promo for next week finds Renee setting her crosshairs on Carla's friend and Drita stumbling around a club. Considering that the two women are known for having tempers and they're generally in pretty close proximity to one another, it's a sure thing that there'll be at least one more explosive fight before the end of the season; as much as they may need one another's support at times like this, there's no way their frustrations don't come to a head again. It's a shame, though, because they're both self-aware and intelligent enough to understand why they're so angry (Drita's explanation of sublimation at the end of this week's episode was refreshingly astute.) and I think Drita and Renee could bring so much good to one another, Mob Wives or not.
Despite their tempers, I think other people may play a bigger determining factor in how the rest of the season goes for the two dominating personalities on Mob Wives. Karen was the one who stirred things up this week with recounting some of the more explicit things Drita had said during the premiere when arguing with Renee, which was unnecessary and just done to get some camera time. It didn't matter as things were resolved anyway, but if Drita and Renee can block out the garbage that they hear from others and pledge to keep the peace, this could be a pretty civil show with occasional flare-ups as opposed to the other way around. I still believe that underneath all the reality show dressing, Mob Wives is a smart show with a very sad core to it, a truly interesting look at how much damage a life of crime can truly cause.
Mob Wives airs Sundays at 8:00 on VH1.
What did you think of this week's episode? How do you think Renee and Drita will get along for the rest of the season? Does anybody else think Karen's a bit of a troublemaker?
If you guys want to follow the cast on Twitter to get some inside scoop, you can check out their accounts here:
Carla
Karen
Renee
Drita