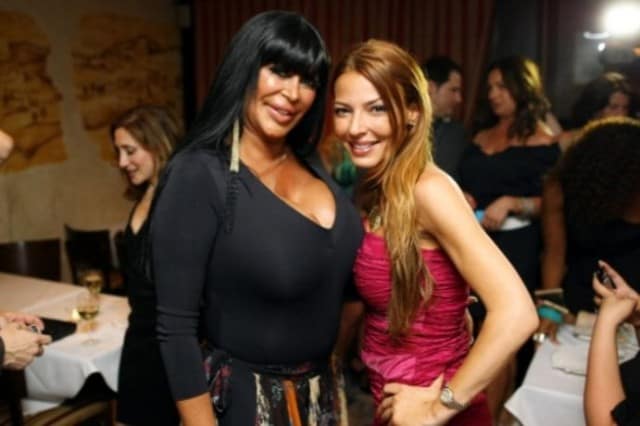 The final sitdown on Mob Wives has aired and one of the stars, Drita D'Avanzo, has dished about the upcoming series finale.   D'Avanzo talks about all of the drama taking place with her co-stars as well as the loss of best friend Angela "Raiola" Big Ang.  Most recently Drita spoke with Amp 92.3 where she began talking about her issues with Karen Gravano.   It was pretty evident from the interview that she has no intention of being friends with her again.  Gravano spread rumors about her and her family on social media that D'Avanzo completely denies.
While the two were actually supposed to reconcile, Gravano apparently never showed up to meet.  And it's not just Gravano that she's got an issue with.  She often bumped heads with Renee Graziano and Carla Facciolo, who D'Avanzo said often got special treatment because Graziano's sister, Jennifer, was the Executive Producer for the series.  When asked about it D'Avanzo had this to say:
It was difficult for me to be on the show. It never went in my favor because in the end Jennifer and Renee had her pals' backs, not mine. She also added this when referring to Ang, "I will miss the way she walks, talks, her infectious laugh, the way she cooked. My lord, Ang should have had a cooking show the way she cooked. It was amazing foods, too. I will miss everything about her."
As far as tonight's episode is concerned, you can expect a lot of drama and plenty of heartache.  From the promo we have below it looks like police get involved and there's more violence than we've ever seen.  These women look like they are brawling harder than most men do at a bar past midnight.  This is borderline Jerry Springer material.  Check out the craziness below:
The. End. Is. Near. Don't miss #MobWives: The Final Sitdown WEDNESDAY + 8/7c.

Posted by Mob Wives on Monday, March 14, 2016
As far as what some people are saying about tonight's show, here are a couple of choice quotes we found on Facebook.
Team drita. .. all of the sudden people get offended because drita wants to fight ..when all the time in the show All the girls talk about killing here I'll bury you ,lol specialy karen and rene with delicious lol have to watch all the season again it's mob wives ..
If i was Karen i would of stood up before she even said get up, Drita need a good woopin, big mouth. She 's a fake friend,i don't like her anymore.
So why are people questioning Dritas parenting skills because of this fight??? Drita isn't the only one whose fought on the show they all have
Don't forget to catch Mob Wives on VH1 at 8PM Wednesdays