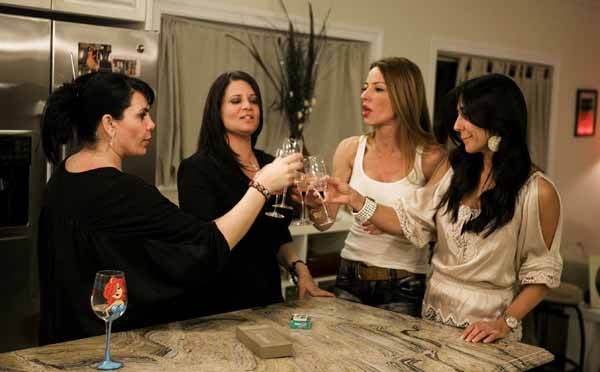 Before I get into the deliciousness that is set to transpire on VH1 next Sunday night, can I just tell you how surprised (and oddly bummed) I am that it'll be the season finale of Mob Wives? Hasn't it felt like the season started about three weeks ago? Here's to hoping that season two will be even better and will go on for a longer period of time.
Anyway, one of the major things that struck me from watching the Mob Wives promo is that we may have our second (real) physical altercation of the season, following Wrestlemania in Renee's dining room/kitchen a few episodes back. After a season of near misses in that department and a whole lot of yelling, it looks like Drita and Karen will finally be having it out over the issue of Karen's book, Drita's relationship with Lee, and the sense of "betrayal" that Karen still (apparently) feels. Truthfully? I couldn't be more excited.
I know, it's probably bad form to be excited to watch a restaurant brawl, but it just feels like one of those things that needs to happen in order for everyone to move on. It's such a sensitive topic for everyone that any attempt at "conversation" always ends up going down the tubes quickly, so it makes sense for everything to bubble over into something physical.
Personally, I'm all aboard the Team Drita train and if she lets herself let go, I think she'll pretty much have her way with Karen. One of the first things we learned about Drita this season was that she's had her share of fights and she knows how to handle her business in that department; eventually, after the series premiere near-fight with Renee, we found out that Drita has a hard time really "going there" with people she considers her friends. Aside from a couple of episodes, Drita and Karen have been very estranged and if Karen says the wrong thing, it could be trouble for the aspiring author, especially considering that final scene with Drita and Carla in the diner.
Aside from the fact that she seems like she could be the best physical fighter in the entire Real Housewives/(blank) Wives universe, I'm Team Drita because I'm beyond sick of Karen rehashing the same feelings of "betrayal" and "hurt" about Drita's relationship with Lee, especially after she made her apologize at Renee's. While I'm sure that there's a kernel of realness to Karen's emotions, it seems that her troublemaking tendencies are getting the best of her and I think there's something else there aside from "you married a guy I dated 20 years ago". (Seriously, what else is Drita supposed to do besides apologize? I don't see any alternate universes popping up on Mob Wives, so Karen's just going to have to deal.) What is it? I don't know, but I'm looking forward to finding out.
Who do you think emerges the "victor" next Sunday? What do you expect the reunion to be like after what looks to be a pretty serious altercation? If you were in Drita's shoes, would you read a book from your husband's ex-girlfriend?