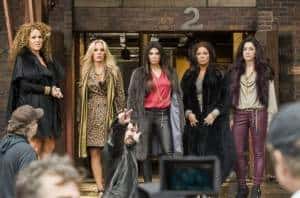 Whenever there's a spin-off of a popular reality series, there's bound to be a lot of skepticism going in. It could very easily turn into a carbon copy of the original, casting specific archetypes rather than interesting people, so any spin-off worth its weight in spilled liquor has to keep the core of what made the original successful and make everything else their own. The just-released Mob Wives Chicago supertrailer hints that it may have done just that, against all odds.
Even though it's difficult to make a broad judgment about a series based on a four-minute clip, you do see both similarities and differences between Mob Wives Chicago and Mob Wives Original Flavor. The big hair, flashy fashion, and intimidating bravado of the original are all present in spades here, as well as the much talked about physical altercations to come. There won't be any bullying controversy on Mob Wives Chicago, if only because each of the five women look very capable of handling their own, much like the cast of regular Mob Wives.
But there are differences, of course. Mob Wives Chicago has one of the children doing a confessional, possibly giving a more intimate look at how the life impacted them, as well as a heavier focus on fathers. All five main cast members are associated with the life through their father, covering every aspect from crooked cops to hitmen to criminal informants, whereas the original Mob Wives had uncles, husbands, and grandfathers included in addition to fathers. But from the looks of the trailer, the new wives are dealing with the same type of loneliness, uncertainty, and abandonment that we've seen in two seasons with the New York wives.
Mob Wives may have changed locations, but the pain that women in the life continue to deal with knows no borders.
Mob Wives Chicago officially premieres June 10th at 8:00 on VH1, though a special preview will be airing May 27th at 9:00 following the Mob Wives reunion. You can check out details about the cast and some brief individual promos here and here.