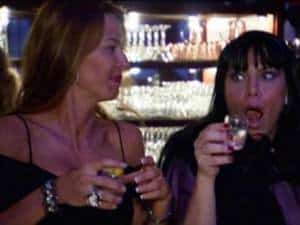 Any die hard fan of Mob Wives "knows" each of the four main ladies by now, as season one was very quick in defining who Karen, Renee, Drita, and Carla were, both individually and in relation to one another. It's that type of self-awareness that made the show one of the more talked about events of summer TV, but the women we met in season one, episode one, minute one aren't the women that are headed into season two. There has been a lot of personal change on all sides, both painful and necessary, so what better way to re-introduce the regulars (and get our first glimpse at the newbies) than with new interviews?
In anticipation of the upcoming premiere, VH1 has released brief recap/introductory clips in order to bring those of you late comers up to speed on Mob Wives. For the four original cast members, you get both a reminder of what happened in season one and where they are going into season two, plus a little commentary on the success of the show for good measure. It's nothing too terribly different from the supertrailer and the sneak peek, but it's a tidy, condensed version of events so far and a nice refresher course in all things Mob Wives.
Additionally, this is the first solo time we've gotten with Ramona and another brief video of Big Ang in action. The former stresses loyalty and friendship throughout her 2 minutes, as well as a kinship toward Karen and Renee. Plus she's already trash talking Drita, so you can only imagine how that'll go once season two kicks off. Ang, on the other hand, is much less serious and a much bigger personality, all big lips, raspy voice, and infectious laugh. I immediately liked her in the supertrailer and if the vibe in the video below is what she'll be bringing to the show overall, I think season 2 of Mob Wives has the chance to better season one.
To check out Carla, Karen, Renee, Drita, Ramona, and Big Ang in all their glory, be sure to tune in to the season premiere of Mob Wives on January 1st at 8:00.