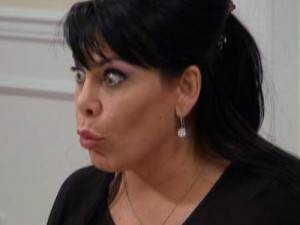 In case you hadn't noticed from the infestation of reruns, yearly best of retrospectives, and holiday specials, TV has now entered the doldrums of mid-December. Only a select few fall shows are still running, so while we take in the last new scripted content of 2011, we can now turn our attention to 2012 TV and that'll all start with Mob Wives.
Yes, the VH1 docu-soap about a group of women with ties to "the family" will be one of the first shows to return in the new year and judging by the sneak peek below, it looks to be an explosive way to ring in 2012. Taking place at Renee's post-surgery bash, the drama is between Drita and Karen, who hadn't seen one another in the time following their season-ending rooftop fight. While Drita seems to be taking the grin and bear it approach to the party, if only for her love for Renee, Karen sends some mixed signals; on one hand, she mentions how she doesn't want to disrespect Renee by causing a scene at her party, but on the other, one of the first things she does when she gets there is go up to Drita. It's par-for-the-course with Karen, but from the looks of the supertrailer, it seems like she will indeed be making a scene. (Watch the clip below and remember what they're wearing while checking out the trailer again.)
It's a shame, as Renee deserved a night to be in the spotlight, but the fight will be highly entertaining, I'm sure.
The preview also gives a first look at new cast members Ramona and Big Ang, a mutual friend of the group that tries to play mediator. Ramona's obviously on her childhood friend Karen's "side" of this whole kerfuffle, but she didn't seem to be pushing her into a fight like I assumed. In fact, Karen gained a little more bravado due to Ramona's mere presence, especially since Drita showed up without her "ally" Carla. As much as Ang tried to smooth things over, I'm guessing the Drita/Karen rift is far from over.
Mob Wives season two premieres Sunday January 1st at 8:00.