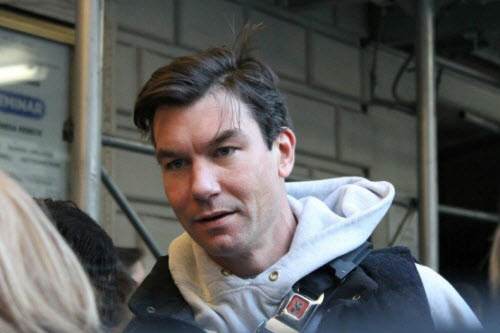 On the same day that Bryan Fuller announced his Hannibal Lecter, the man responsible for bringing Herman Munster back to life has been revealed.
According to TVLine, Jerry O'Connell has been given the role of Munster family patriarch in the dramatic reboot of the 1960s sitcom. O'Connell, whose last regular TV role was in 2010's The Defenders, joins three other actors that have become attached to the project; Charity Wakefield will be playing Lily's niece Marilyn Munster, Mason Cook will be playing youngest child Eddie Munster, and Eddie Izzard will be playing Grandpa Munster.
Though Mockingbird Lane didn't make the NBC fall schedule, the show is in very serious contention for a 2013 midseason slot where it could air alongside Fuller's other project Hannibal. The show is said to be a "visually spectacular" one-hour interpretation of the 30 minute original, with the costumes and make-up toned down from the campier/more outlandish appearance of the comedy characters. Production should begin sometime later this summer, though without any episode order to go by, it could conceivably have a first season of a single-digit number of episodes should casting take too long or a couple of dramas hit harder than expected.
NBC has more than their fair share of scripted midseason shows in the pipeline, including Hannibal, a recently picked up pirate drama, primetime soap Infamous, medical drama Do No Harm, political family comedy 1600 Penn, Dane Cook comedy Next Caller, and divine intervention comedy Save Me. You can check out their 2012 fall schedule here, which has two new dramas (Revolution, Chicago Fire) and four new comedies (Go On, The New Normal, Animal Practice, Guys with Kids).
What do you think about the idea of Jerry O'Connell as Herman Munster? Will you be checking out Mockingbird Lane if it makes it to series? Who should play Dot, Herman, Huey, Lily, and Nixie?