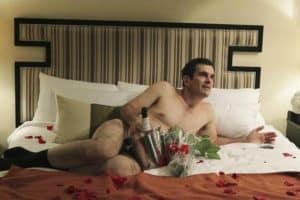 It's been four long weeks since we last saw the Dunphy, Pritchett and Pritchett-Tucker clans, so if you need a refresher, check out my most recent review.
There is often a lot of discussion in this space about the use of a unifying theme to link the three families in Modern Family in each episode. Sometimes there is a unifying theme, sometimes there isn't. Some of these themes are complex, others are simple. Sometimes all three families' stories fit into the theme well, and other times one story is left out in the cold. An analysis of this type is often useful in determining why an episode is "successful" or not. There are times, however, when, due to the exceeding hilarity of an episode, the theme discussion should start and end simply with something like, "It's Valentine's Day." This is exactly what "Bixby's Back" aimed for, and it was something special.
For those that remember, Modern Family scored huge with its Valentine's Day episode, "My Funky Valentine," last season. That episode introduced us to Phil and Claire's sexy alter-egos Clive Bixby, the high-end electro-acoustic transducer salesman, and Julianna, the disgruntled housewife. In this week's episode, the show revisited those characters as Phil and Claire went to dinner to celebrate the holiday, only to find themselves surrounded by senior citizens and insisting that while they are no longer teenagers, they aren't old yet. The Phil and Claire scenes played out as a very funny retread of their scenes from "My Funky Valentine," including Clive's name tag, a meet-up at a bar, Clive's unintentional double entendres, Claire being insulted, and one of them ending up in an embarrassing state of undress.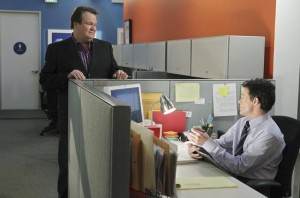 I loved everything about this plot. I know many other sitcoms make references to gags or situations that have occurred previously in their runs, but this "second chance" seemed rather fresh. Maybe this was because I was feeling the glow from the perfection the original Clive/Julianna scenes cast (if you'll remember, "My Funky Valentine" was really the first time Julie Bowen was allowed to be more than just the straight woman to Phil's funny man, which made that episode resonate even more with me). Whatever the reason, Phil and Claire were absolutely fantastic in every facet of their scenes. Seriously, I could watch Phil bang his head on the bed as he tries to take off his pants in the hotel room over and over and over again, and I would never stop audibly guffawing. Genius.
All of my praise for Phil and Claire is not take anything away from the other plots, because I really enjoyed those, too. Jesse Tyler Ferguson and Eric Stonestreet have amazing chemistry, and they make whatever story they receive work incredibly. I find, however, that their characters click at the highest level when they are in some sort of competitive situation with each other. Such competition pulls Mitchell out of his constant desire to be the voice of reason, and makes the usually selfless Cameron more full of himself and braggadocious — all to hilarious effect. As the pair's story had them competing for the unwanted affection of Mitchell's assistant, I thoroughly enjoyed their plot. Though Jay and Gloria didn't seem to have as much screen time as the other couples, I liked the edgy sweetness of their story. Gloria is certainly smarter than me because I didn't see her turning the tables on Jay coming at all. Similar to the competition Mitchell and Cameron had, Gloria turned Valentine's Day into a competition; one in which she was able to prove she was smarter than Jay, but also gave Jay is win by recognizing that he is, indeed, a romantic. Good work by all involved.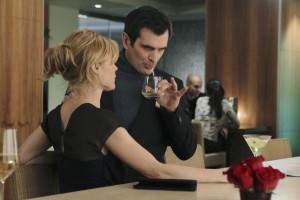 If I fault "Bixby's Back" for anything, it was the Manny/Haley story. I know that Manny and Haley aren't blood related, and I know that children within extended families often have crushes on each other, but Manny essentially hitting on Haley was just weird for me. Back in early Season One, Manny's crush on Haley was often displayed, but I don't remember a time within the last calendar year that it was prominent enough to even note, so its inclusion here was relatively jarring (please feel free to point out a situation to the contrary if there is one). Yes, Manny trying to boost Haley's ego as a way of wooing her is inherently funny, and well played by Rico Rodriguez and Sarah Hyland, but the plot just felt like an unnecessary appendage to the other very funny plots. Further, how do they put Luke physically in a scene, but not give him any lines?!? It's a travesty!! But all was not for naught, because, in a very positive development, Haley and Dylan reconciled, meaning more appearances of Dylan in the future. This is something all Modern Family fans should be able to get behind.
Of course, as this was an episode of Modern Family, the direction, physical humor, and dialogue were all top notch. Really though, the star of the night was Clive Bixby, national man of mystery, whose come-ons are just golden. So, here are some of my favorite Clive lines from the episode:
Claire: Now, make up some lie, ditch that wife of yours, and meet me at our hotel in thirty minutes. Think you can manage that?
Phil: Baby doll, I've been lying to my wife for sixteen years!
Claire: You're looking as handsome as ever, Clive.
Phil: As are you Julianna. You look hot enough to cook a pizza on……….in.
Phil: I didn't catch what you do [for a living].
Claire: Didn't you?
Phil: Surprisingly no. I'm usually good at catching things from women in bars.
Claire (handing over a room key): I'll be upstairs. Don't take too long.
Phil (grabbing her tightly): I never do.
There were great lines for the other characters too ("Did I validate you?" "It's pronounced 'Ee-BEETH-a.'…Yeah, I'm the dumb one." Dylan's song: "Imagine Me Naked"), but this night was Clive Bixby's, as it should be.
What did you think of the episode? Were you happy to have Clive and Julianna back? What did you think about Gloria turning the tables on Jay? Was Broderick crushing on Mitchell or Cameron? Where does this episode rank for this season and the series? Please leave your comments below. I'll be back next week with another review. Until then, I'm off to pick out china and move to Vermont.
Follow: twitter.com/tvovermind
Follow: twitter.com/MikeNJD
Email: [email protected]