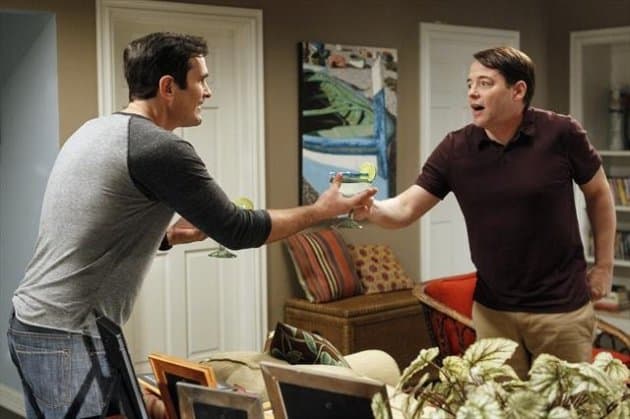 Tonight on an all new episode of Modern Family entitled "Mistery Date," Claire (Julie Bowen) takes Alex (Ariel Winter) to her academic decathlon for the weekend and brings along Luke (Nolan Gould) and Manny (Rico Rodriuguez) to hang out at the hotel. Â While the pressure is on Alex to repeat her championship status, the boys decide to bar mitzvah hop in search of a cute girl.
Phil (Ty Burrell), having been left home alone, decides to try to drum up some fun with a boys' night out. Tony award-winning actor Matthew Broderick guest stars as new acquaintance and fellow Bulldog alum that Phil decides to invite over for the big night. After he arrives at the Dunphy house, however, Phil realizes that being a Bulldog might be the only thing these two have in common.
As Jay (Ed O'Neill) and Gloria (Sofia Vergara) continue to prepare for the arrival of their new baby, Mitch (Jesse Tyler Ferguson) and Cam (Eric Stonestreet) make arrangements for a surprise baby gift.
Can't wait for tonight's all new episode of Modern Family? Check out the preview clips below and get a sneak peek at "Mistery Date."
Modern Family airs Wednesdays at 9/8c on ABC.
[FLOWPLAYER=https://www.tvovermind.com/wp-content/uploads/2012/11/mf-408-2.jpg|https://www.tvovermind.com/wp-content/uploads/2012/11/MDF408_fv2.h264HD-Clip2.flv,440,280]
[FLOWPLAYER=https://www.tvovermind.com/wp-content/uploads/2012/11/mf-408-1.jpg|https://www.tvovermind.com/wp-content/uploads/2012/11/MDF408_fv1.h264HD-Clip1.flv,440,280]