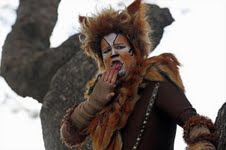 Tonight Modern Family airs another new episode entitled, "When a Tree Falls," in which Cam (Eric Stonestreet), after a whole of begging, convinces Mitch (Jesse Tyler Ferguson) to join his cause to save an old tree in the local park. What Mitch doesn't realize, however, is just how far Cam might be willing to go to save the tree from being cut down.
Jay (Ed O'Neill) agrees to take Manny (Rico Rodriguez) to an Olympics themed kids' party, but once there, they realize that they are both being pushed beyond their comfort zones. While Haley (Sarah Hyland) prepares to face the music for her actions that got her kicked out of college for the year, her siblings try to prepare her for the types of riff raff she may encounter during her community service.
Claire (Julie Bowen) brings a very pregnant Gloria (Sofia Vegara) along on a shopping trip to the local Costco, but her "baby brain" kicks in and leads to an unexpectedly eventful visit to the store. Paul Scheer guest stars as the Costco manager sent to handle the chaos.
Can't wait until tonight's episode of Modern Family? Watch the clips below for a sneak peak of "When a Tree Falls."
Modern Family airs Wednesdays at 9/8c on ABC.
[FLOWPLAYER=http://www.tvovermind.com/wp-content/uploads/2012/11/mf-409-5.jpg|http://www.tvovermind.com/wp-content/uploads/2012/11/MDF409_fv5.flv,440,280]
[FLOWPLAYER=http://www.tvovermind.com/wp-content/uploads/2012/11/mf-409-4.jpg|http://www.tvovermind.com/wp-content/uploads/2012/11/MDF409_fv4.flv,440,280]
[FLOWPLAYER=http://www.tvovermind.com/wp-content/uploads/2012/11/mf-409-2.jpg|http://www.tvovermind.com/wp-content/uploads/2012/11/MDF409_fv2.flv,440,280]